Having access to good WiFi at all times is essential to just about everyone nowadays. There are tons of establishments out there that offer public WiFi, but you have to find the password, which can be time-consuming.
But there are apps out there that you can use to find the hotspots and save those passwords. One of the best is Instabridge. With its 4.5 star rating, it is evident that it is pretty popular.
So let's look at everything you need to know about the app. That way you can decide if it is the right one for you.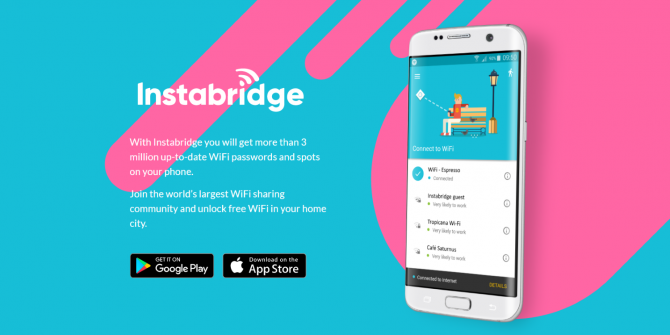 What Is Instabridge About?
This app is designed to help you find a hotspot and can be used to help connect you automatically to any free public WiFi spots in your area. Instabridge is a crowdsourced application where users help their fellow WFi hunters out as well. 
Users in the community can save passwords as well as hotspots that work well. This way, you will always be able to find the right WiFi. The app is loaded with current spots so that you have the accessibility you need to get to where you are going or get that work done.
Features of the App
The app is set with tons of features that will make finding that WiFi in public places easy. No matter what city you are in, you will be able to have access to a ton of free WiFi hotspots. The good thing is that this app is set up not to have limitations when it comes to data use.
Along with this, you can have your phone auto-connect to a WiFi hotspot, so you never have to worry about not having any connectivity. The hot spots are broken down into stats that matter, like speed and data usage. Plus, you will be able to have access to the maps even when you aren't connected to the internet. 
Instabridge Cost
The great thing about this app is that you won't have to worry when it comes to your wallet. There will be no need for you to crack it open as Instabridge is free to download. There is an in-app purchase, of course, but for the basic services, you can have access to them for free. 
How to Download the App
You will first need to go to the store that has apps available for your smart devices operating system. Then, once you have searched for the app, all you have to do is hit install and wait for the download to complete.
If you need to have WiFi any place you go, then you might want to download this app. For those working with Android smart devices, you can download the app from the Google Play Store, and for iOS users, you can get the app from the Apple App Store. 
How to Use
Once you have the app downloaded, you then can open up and start by choosing what WiFi you are looking to connect to. Just tap the hotspot your want to connect to, then you will be set and ready to go. 
Instabridge – Pros & Cons
Before you go all-in with the app, you might be asking yourself the advantages and disadvantages of using it. Below is a look at some of those.
Pros
Easy to use and quick to find free public WiFi
It comes with the ability to save passwords so you can auto-connect to a hotspot in your area
The app is crowdsourced, which means that all users are helping each other
Marks bad hotspots, so you don't use them
Cons
There are some duplicate listing
Because it is crowdsourced, there are not a lot of social features
There are bugs and fixes that show up regularly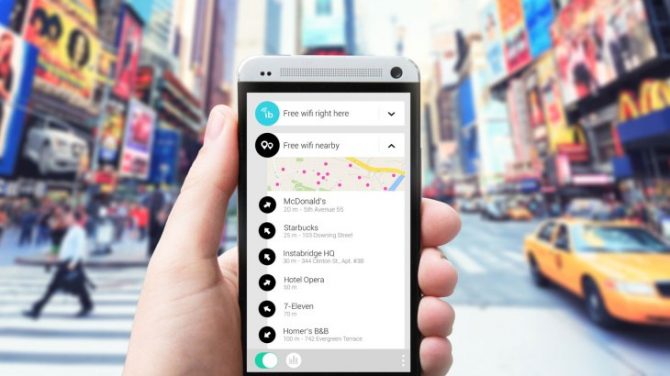 Summary
Having access to public WiFi with ease will help you get stuff done. Instabridge is well-reviewed by both users and magazines. This is why it has that 4.5-star rating – it is simple to use and versatile.
So if that sounds like the app you are looking for, then you should definitely try out Instabridge. We hope this review has really helped!