Asda credit cards specialise in bringing their customers some of the best deals on the market. Asda's credit cards are geared towards customers getting cashback vouchers, thereby allowing users to get their money's worth. Powered by Mastercard, these credit cards are designed to give customers their deserved cash back and help control credit ratings.
Interested in getting an Asda credit card? Read on to find out how to apply for this credit card today. This is a comprehensive credit card guide that will help you get to know Asda cash back credit cards better.
Benefits & Features of an Asda Credit Card
Asda is not like other banks and financial institutions on the market. While it has a smaller selection of credit cards, Asda takes pride in giving absolutely zero annual fees for their Asda Cashback Credit Card and the Asda Cashback Start Credit Card. Under these, you are free to earn cash back each time you shop!
One of the key benefits of these Mastercard-powered credit cards is that you can earn 1% cashback on all Asda spends and 0.2% cashback on all other purchases. As a matter of fact, the more you shop, the more you can earn! The Asda Cashback Credit Card also provides a whopping 10% cashback on selected Asda insurance products.
Asda gives its cashback rewards in voucher form, allowing you to spend these in Asda stores, Asda Living, or online at George.com. These cashback vouchers can also be used at Asda petrol stations.
Another key feature you do not want to miss out on is the Asda Cashback Start Credit Card's ability to boost your credit rating and improve your overall credit history. With the Direct Debit Facility, you can make manageable and affordable repayments over time.
Asda Credit Card Offers
The Asda Cashback Credit Card offers interest-free purchases for up to 6 months (purchases of £200 or more). This allows you to purchase big-ticket and everyday items without the extra charge.
For travelers who are interested in getting their hands on the Asda Cashback Credit Card, you will be rewarded with £5 off Travel Money when you make Asda purchases over £300. This offer ends on May 31, 2019. This credit card also has an inviting representative 19.9% variable APR for those lucky applicants.
Asda Credit Card Balance Transfer
What's beautiful about having an Asda credit card is that it allows you to transfer your existing balance from another credit card at 0% interest. This promotional offering on balance transfers is only valid for 12 months, so make sure to grab this opportunity before it ends. After the initial period, there will be an annual charge ranging from 19.90% to 29.90% for balance transfers.
Asda Credit Card Eligibility
Interested applicants must be at least 18 years old or older. In addition, applicants should be a resident of the United Kingdom. If you want to check your eligibility, feel free to do so on the website.
Some of the information and requirements that will be asked of you in the eligibility checker include your personal details, residential status and details, and employment and salary information.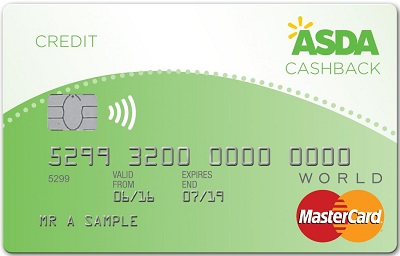 Asda Credit Card Application
Should you decide to proceed with your application, you can do so by checking your eligibility and filling out the online application form found on the Asda Money website.
Another way you can apply for an Asda credit card is by personally going to an Asda store near you.
Asda Credit Card Activation
The Asda credit card processing time can happen almost instantly. Checking your eligibility will not affect your credit rating. After submitting the eligibility check and the full application, you will receive an instant decision. The whole application can be completed in less than 10 minutes.
When your application comes out successful, you can activate an Asda credit card by signing the back of the card and registering for the Online Account Manager. You also have the option to activate an Asda credit card by calling the store and giving the representative the number on the activation sticker.
Asda Credit Card Limit
The Asda credit card has an assumed credit limit amount of £1,200. The Asda credit card limit is determined by a variety of factors. These include your creditworthiness, your income, credit history, and monthly expenses.
Asda Credit Card Interest Rate and Fees
Annual Fee: £0
Representative Variable APR: 19.90% (Cashback Credit Card) – 34.90% (Cashback Start Credit Card)
Balance Transfer Interest Rate: 19.90% (Cashback Credit Card) – 34.90% (Cashback Start Credit Card)
Cash Advance Fee: 27.90% (Cashback Credit Card) – 34.90% (Cashback Start Credit Card)
Late Payment Fee: £12
Foreign Currency Conversion Fee: 2.99%
Asda Credit Card App and Online Banking
Your credit card account can be managed and accessed through online banking. Users can easily access details regarding their account.
Through online banking, you can stay on top of your payments and finances. The Online Account Manager will display the due date of your next payment on the Dashboard.
Already an Asda Credit Card Holder?
If you already hold account with Asda, below are some informational tips that can help you manage your Asda credit card.
Asda Credit Card Contact Information and Customer Service
Address: 4th floor, Kings Place, 90 York Way, London, N1 9AG.
Should you have more questions and clarifications regarding your credit card, feel free to call the Customer Contact Team at 0371 402 8914. They can answer your queries from Mondays to Fridays, 8:30 am to 8:00 pm, Saturdays from 9:00 am to 6:00 pm, Sundays from 10:00 am to 4:00 pm, and bank holidays from 10:00 am to 6:00 pm.
The Asda customer service team can help you with any queries about your account. However, calls will be charged at a basic rate.
Asda Credit Card Login
You can access your account with the Online Account Manager. To login, you will need to register first. After doing so, you can input your username and password, and you're good to go.
Asda Credit Card Payment
The Asda credit card minimum repayment is 1% of the principal owing amount. In addition, you also need to pay outstanding charges such as interests and other fees or £5, whichever is higher. The interest-free period for standard purchases is up to 50 days.
To pay, you can use the Direct Debit Facility of your account. You can also make payments using your debit card or with a bank, with the payment being credited to your account within 3 to 5 working days.
How to Cancel Your Asda Credit Card
If you are unhappy with your credit card, you can cancel an Asda credit card by calling the customer service line at 0371 402 8914. After closing your account, Asda will send you a confirmation letter.
Conclusion
Overall, Asda credit cards are perfect if you are looking for cash back rewards and maximum earnings. While the interest rates can be quite high and intimidating, the benefits of these cards will certainly outweigh these rates. For more information, check out the Asda website today.
Note: There are risks involved when applying for and using a credit card. Please see the bank's Terms and Conditions page for more information.