The developers of the Opera browser have released an update with several changes to its free, built-in, VPN service. Opera was the first major browser developer to add a free VPN to its browser. The new update is the first large upgrade to the service that was launched in September last year.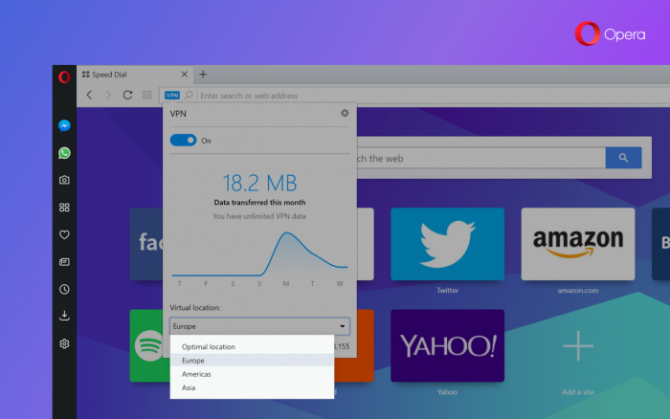 Previously, Opera used the VPN services from SurfEasy but the browser developer decided to host its VPN service in its own data centers. SurfEasy was recently acquired by Symantec and this was a motive for Opera to search for an alternative.
That alternative, hosting the service by themselves, in their own data centers, brings some changes. Previously users could switch between five different countries (Canada, United States, Singapore, Netherlands and Germany). After the update, users have choose between continents (Europe, Americas and Asia).
Just like the previous version, the browser will pick the optimal location by default but allows users to switch manually between the available locations.
By hosting the service on Opera's own servers, users of the VPN service should benefit from increased performance and scalability, while allowing the browser developer to keep the service free, without logging data.
The free VPN upgrade comes with version Opera version 49 which is gradually rolled out globally, right now.
According to StatCounter, Opera holds a global market share of about 3.8%. The browser developer has not disclosed how many users use their free VPN service.