Investigators in Iran were perplexed by the previously unknown,'straight-out-of-science-fiction' gadget. Israel used a state-of-the-art remotely operated AI Killer Robot to assassinate Iran's top nuclear scientist earlier this year.
The media claimed that Israel deployed a high-tech remote-controlled device gun for the first time last year to murder a top Iranian nuclear expert, perhaps corroborating prior Iranian allegations that contradicted supposed eyewitness testimonies of a gunfight.
Mohsen Fakhrizadeh was slain by a "killer robot" with AI technology and numerous camera eyes that are controlled through satellite, according to the report. Israel employed a customized variant of the Belgian-made FN machine rifle that was connected to a robotic device, according to a report citing an intelligence official.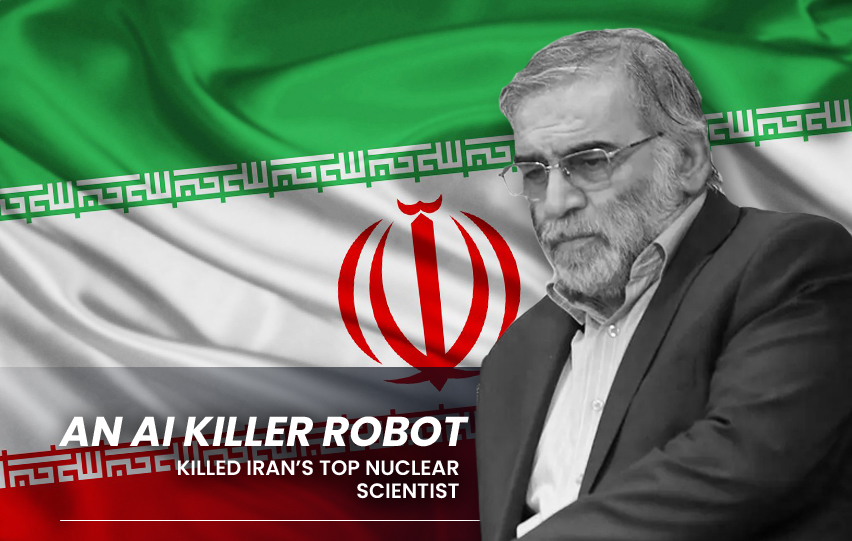 The cannon and robot, together with its components and attachments, weighed about a ton. According to The New York Times, Israel must dismantle the equipment and transport each piece into Iran one at a time before reassembling it inside the nation.
According to the article, the robot was intended to fit in the bed of a pickup truck, which was equipped with several cameras and grenades that allowed users to avoid prosecution. Some other issue was guaranteeing that it was Fakhrizadeh driving recklessly that would be targeted, rather than a member of his family.
An issue that was resolved, according to Iranian investigators, by parking a fake broken car with a camera and face-recognition software at a junction he was expected to pass.
A killing crew was waiting for Mr. Fakhrizadeh at a scheduled assassination spot in Tehran in 2009, but the operation was called off at the last minute. The Mossad thought that the operation had been thwarted and that Iran had set up an ambush. They were going to attempt something different this time.
A blue Nissan Zamyad pickup truck parked by Iranian Mossad operatives on the side of the road linking Absard to the main highway. The location was on a small incline with a view of oncoming cars. A 7.62-mm sniper machine gun was hidden behind tarpaulins and fake building debris in the truck bed.
Mr. Fakhrizadeh, his wife, and a squad of armed guards in escort cars were ready to leave for Absard, where many of Iran's wealthy have second homes and vacation villas, about 1 p.m., the hit team received word. The assassin, a superb sniper, took up his position, cocked the rifle, and softly stroked the trigger.