Several references in the Android source code give a strong indication that Android 8.0 will be very likely codenamed 'oatmeal cookie'. In the source code we found references to 'oc-dev' which is in line with former branch names used by Google.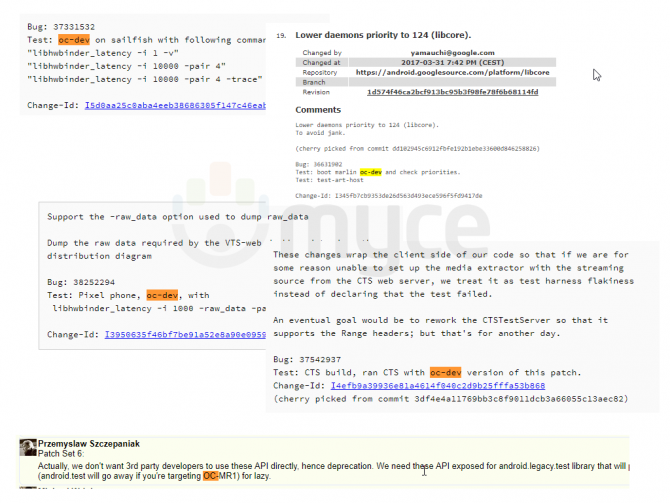 As the screenshots indicate we found numerous references to 'oc-dev' and also one time 'OC-MR1'. While it's not entirely sure 'oc' is an abbreviation of oatmeal cookie, it's the most likely candidate.
Google has a history of giving Android releases confectionery-themed names. Former names are e.g Kitkat, Lollipop, Nougat and Marshmallow.
Android 8 Oatmeal Cookie should bring battery life, picture in picture mode, high quality bluetooth audio, adaptive icons and more.
Update:
Several Twitter users also found a Oatmeal Cookie reference in slides presented during Google I/O.
Looks like at least internally Android O is "Oatmeal Cookie." Noticed this in an I/O slide. pic.twitter.com/9AZD0Zdc8l

— Yoni Samlan (@ysamlan) June 6, 2017
Oatmeal Cookie appears at I/O as (presumably) the internal codename for O, so I'm still hopeful for a release name of Android Oreo 🙂 pic.twitter.com/LRHihJvtNs

— WhiteTiger (@WhiteTigerAE) May 19, 2017
Oatmeal cookie used on one of the slides. Might be the name of the next #Android version? #io17 pic.twitter.com/jxYj9c2Ng4

— bolot (@bolot) May 18, 2017