Arusoft plans to release a new version of DeUHD next week that will bring an 'amazing' speed improvement. Ripping Ultra HD Blu-ray discs with DeUHD should become a less time consuming activity with the new version. Currently it takes 4 to 6 hours to rip an entire Ultra HD Blu-ray disc to the hard disk.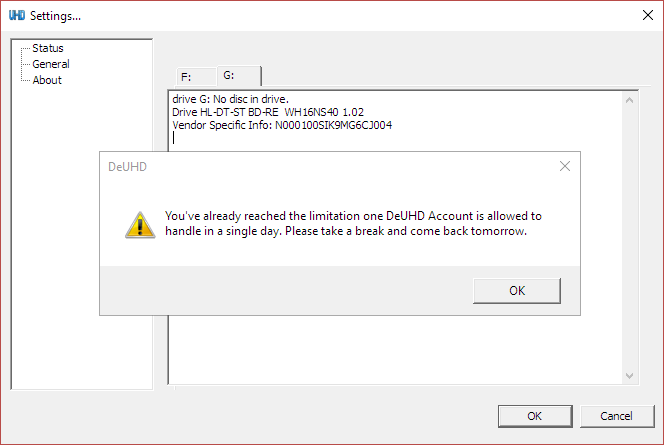 The news came when we asked Arusoft why there's currently a limit on the amount of discs that can be processed per day. Users on our DeUHD Forum complain that they can only rip two discs per day. According to Arusoft, the limit is not of technical nature or because of another policy.
The company believes that two discs per day is sufficient for most users (they would spend 8-12 hours when processing two discs per pay at the current ripping speed), and believes there are no users who would rip 730 (365 days * 2) discs per year.
Interestingly, the company added in their email to us, "We can expect that the time of our single disc processing will be shortened in the near future. They [our users] will find an amazing speed improve[sic] maybe next week I hope."
Unfortunately Arusoft didn't disclose any numbers on the expected speed improvement.
The next version, scheduled for release next week, should not only bring a speed improvement but also the also the number of supported Blu-ray drives and supported movies should increase, Arusoft told us.