The free secure email service ProtonMail has come out of beta today and is now available for everyone. The service does not show advertisements, to generate revenue a paid subscription with additional features is available. ProtonMail can be used in any browser and there's an app for both Android and iOS.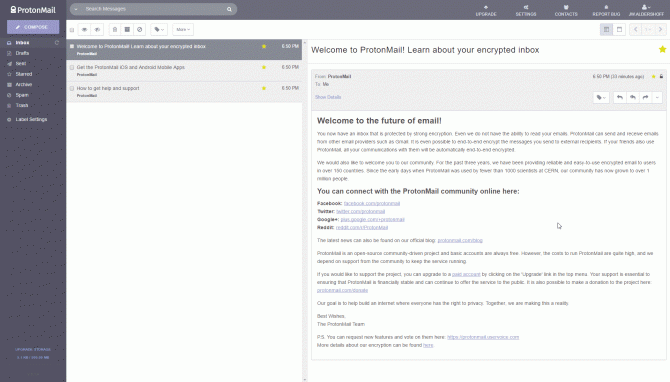 Mails send through the service are end-to-end encrypted and Protonmail promises not to store any logs. No personal details are required during signup and because the company and their servers are based in Switzerland, all user data is protected by strict Swiss privacy laws.
During the creation of a ProtonMail email address the service asks for two passwords, one for logging into the service, the other one to encrypt mails. The service stresses that the encryption password can't be recovered,  without it emails are lost.
Free ProtonMail accounts get 500MB storage, paid accounts go for €48 ($54) per year and get 5GB storage, support for custom domains and aliases, priority support and higher sending limits.
The service has been in beta for 2 years and has more than 1 million users. It received many new signups after it was featured in the TV Show Mr. Robot. In November last year ProtonMail became victim of a sophisticated attack of cyber criminals that tried to extort the service.