A roadmap revealing the upcoming Intel SSD lineup shows that the company plans to launch a BGA SSD targeted at professionals in the third quarter of this year. The series is called Intel Pro 7000P and will be available in capacities of 128GB, 256GB and 512GB.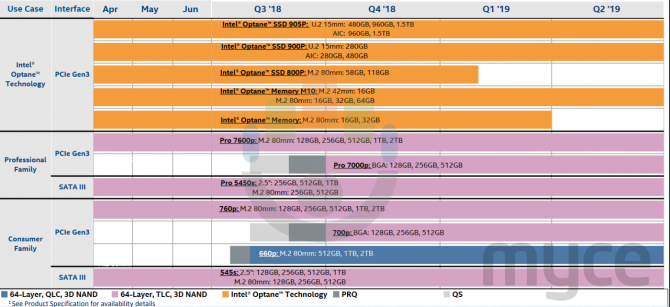 The SSD comes in a ball-grid array (BGA) form-factor which has been designed to further shrink the size of solid-state disks. BGA sized SSDs are about five times smaller than M.2 SSDs and hundred times smaller than a 2.5″ drive. Not only do they integrate NAND flash memory, but also the controller, DRAM cache and everything else required for the SSD to function. For the computer and its software, BGA SSDs are drives with a PCIe interface or SATA interface.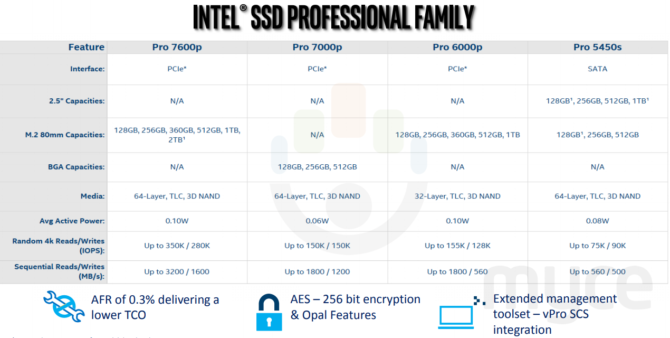 Intel fits its 64-layer TLC 3D NAND inside the BGA package. To connect to the computer, the Intel Pro 7000P uses the PCIe interface.  The chip giant specifies sequential read and writes of 1,800 MB/s and 1,200 MB/s respectively. Random performance is specified at 150,000 IOPS for both reading and writing.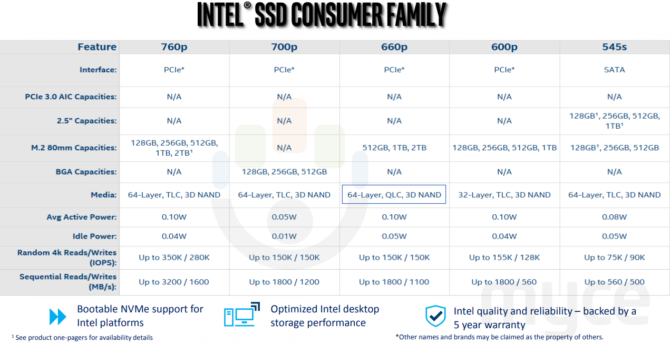 The 700p series, which also comes in a BGA package, was already leaked before and our roadmap mentions it again. Both the Intel 700p series and the Intel Pro 7000 series should become available at the end of the third quarter or beginning of the fourth quarter of this year. Interestingly the specifications of the 700p and Pro 7000p are pretty similar. Random and sequential performance is the same and both drives use  Intel 64-layer TLC 3D NAND only the average active power consumption marginally differs.
Availability in these kind of roadmaps is indicative, it might as well become available earlier or later. Pricing information is not available at this time.