A long list of AACS 2.0 Volume Keys has been leaked on the internet. The list contains 72 keys of 58 different movies and the source is unknown. The keys can be used for playback of Ultra HD Blu-ray content or by software that accepts entering external keys.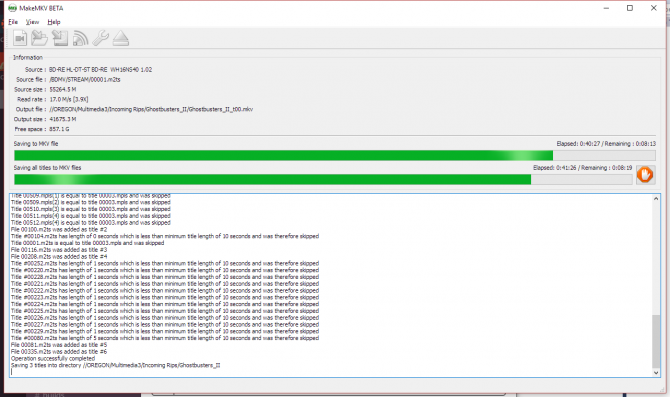 Screenshot showing how keys are used with MakeMKV – Credit ccutrer
The list contains movies like Amazing Spiderman, Deadpool, Independence Day, Ghostbuster (1 & 2), Hunger Games (Mockingjay 2), Kingsman, The Martian and many more and was posted on a well known movie conversion forum. It also appeared on our forum, but we decided to remove it for legal reasons.
Read more: 
The leaked keys can be used to decrypt so-called 'unit keys' that can be found in the file Unit_key_ro.info on Ultra HD Blu-ray discs. With the decrypted unit keys, the video files can be decrypted as well.
This currently only works with Ultra HD friendly drives, and not with AACS 2.0 certified drives as user candela explains on our forum, "in case bus encryption is enabled on the disc, also a valid host certificate is required. Since no valid AACS 2.0 certificate is yet known, it is not possible to use a AACS 2.0 certified drive. But by using a Ultra HD-friendly drive and a valid AACS 1.0 host certificate, this protection can be circumvented. It looks like they put this loophole on purpose for some reason."
He ends his story with some advice, "It's impossible they [AACS LA] did not anticipate someone finding out. So buy these drives  before there firmware is updated."
Ultra HD friendly drives are e.g. the LG WH16NS40, LG BE16NU50, LG BH16NS40 or ASUS BW-16D1HT
Discuss this in our DeUHD Forum | Vote this up on Reddit
Thanks go to Balthazar2k4, candela and ccutrer for providing additional info and the screenshot.
Update: The list of movies with leaked keys doesn't seem to overlap much with the list of movies supported by DeUHD. On our DeUHD forum you can find a list with Ultra HD Blu-ray movies that show whether a movie can be ripped with DeUHD or with MakeMKV using today's leaked keys.