Microsoft has decided to start blocking the Windows 10 October 2018 Update on computers with specific Intel display drivers. On systems with these drivers, and the October update installed, there could be issues with audio playback. It's yet another problem with the latest large Windows 10 update.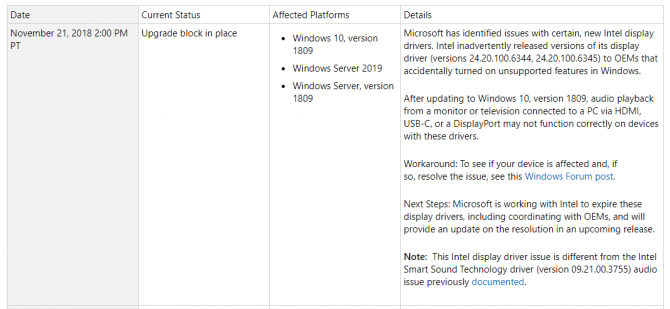 First, Microsoft withdrew the Windows 10 October 2018 Update after users complained that their files disappeared after installing the update. Then, soon after Microsoft restarted distribution of the update to Windows 10 users again, another issue popped up. Computers running iCloud were blocked from installing the October 2018 Update and Microsoft announced to be working with Apple on a solution.
Today, the software giant decided to also block users with Intel display driver versions 24.20.100.6344 and 24.20.100.6345. The reason is that audio playback from a monitor or television connected to a PC via HDMI, USB-C, or a DisplayPort, may not function correctly on devices with these drivers.
According to Microsoft because, "Intel inadvertently released versions of its display driver [..] to OEMs that accidentally turned on unsupported features in Windows."
Users who want to check if they have those specific drivers installed can check this in the Device Manager, select Display adapters, right-click on Intel HD Graphics and go to the Driver tab to check the version you are running.
In case it reports you have version 24.20.100.6344 or  version 24.20.100.6345 installed, then your system is affected and you won't be able to install the Windows 10 October 2018 Update until Microsoft and/or Intel fix the issue.