It's been awhile since we compiled our last Myce SSD Price Index, especially because there was hardly anything interesting to report. Today's index, however, shows that the lowest price per GB dropped with 36.11% in about a year from $0.36 to $0.23.
When we started our index in March 2014, the lowest price per GB was $0.47, compared to that date the current lowest price per GB has even dropped 51.06%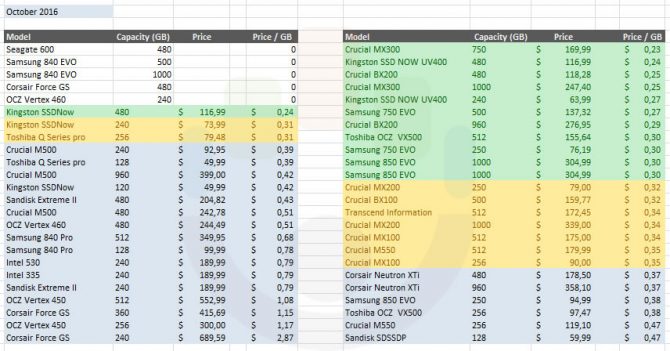 To start, we had to make changes to our index. When we begun compiling our index in 2014, we picked 24 popular SSD models. But times have changed and some of the drives are either no longer available or have become so rare that they've been priced like they are a collectors item.
Therefore we already started to introduce some new models in our index of July 2015, this time we added some more. As our index is based on the price of the SSDs on Amazon, we picked the most popular ones from the online shopping giant.
Back to today's index. It's clear that Crucial, Kingston and Samsung are battling to provide you with a SSD with the lowest price per GB, all of them with TLC NAND powered drives. The Crucial MX300 750GB (review) is the drive to go for in our index, followed by the Kingston SSD NOW UV400 480GB  (review) and Crucial BX200 480GB (review).
It's no surprise that Crucial, Kingston and Samsung SSDs are at the top of our list. Since we started these drives have always dominated the top of our list, except for one time when Transcend offered the cheapest price per GB.
A drop in the price per GB was expected, only one time we saw the prices go up, that was in March 2015, after we saw prices going down for the 2014 Holiday Season. It will be interesting to see how the price will continue to drop, which is expected with the progress in technology of 3D NAND.