Pioneer Japan today announced two Ultra HD Blu-ray drives for the PC which are scheduled to go on sale next month. The drives come in the regular half-height 5.25″ ODD form-factor and require Windows 10, a decent amount of RAM and at least a Core i5 or Core i7 Kaby Lake CPU.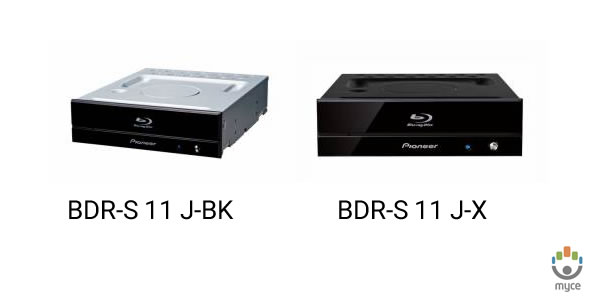 It was expected that Japanese-Korean Hitachi-LG Data Storage (HL-DT-ST, or HLDS) would be the first on the market with a Ultra HD Blu-ray disc drive, but Pioneer was recently also added to the list of certified Ultra HD Blu-ray PC drive licensees.
The company announcement is about two models, the BDR-S11J-BK and BDR-S11J-X. They are very similar but the BDR-S11J-X appears to be targeted to audiophiles as Pioneer's press release states the drive should offer better audio quality than its sibling. That should be due to improved protection against vibration. Pioneer claims it uses a method to make sure discs don't vibrate which can also be found in high-end audio equipment. Also the case of the drive has been adjusted to make the drive more silent than it's cheaper twin brother.
Most interesting feature of both drives is obviously the playback of Ultra HD Blu-ray discs on the PC. In order to play Ultra HD Blu-ray discs, users are required to run Windows 10 on a PC with at least 6GB RAM and either a Core i5 or Core i7 of the Kaby Lake (7th) generation.  The drives will use the integrated Intel HD Graphics 630 GPU of the Intel Core processors for Ultra HD Blu-ray content.
Pioneer also lists that a 4K monitor  ((3840 x 2160 or higher, HDR support recommended) is needed that should support HDMI 2.0a  (and HDCP 2.2.). Without support of both you can't  enjoy Ultra HD Blu-ray content at fullest. Regarding HDMI and HDCP, also a mainboard that supports the required HDMI 2.0a and HDCP 2.2.  is required for playback.
The last requirement is CyberLink PowerDVD (including AVREC and CPRM support), which is currently the only PC software that is listed as licensed for the playback of Ultra HD Blu-ray content on the PC. Luckily this software comes with the drive.
Obviously all these requirement are not needed to play other discs on the drives such as CDs, DVDs and regular Blu-ray discs. The drives not only read those, but can also write them, CD-Rs at a maximum of 40x, DVD+ and DVD- recordables at a maximum of 16x, which is also the maximum speed at which the drives can write BD-R discs.
Pioneer hasn't released any pricing information but states that the drives will be available by late February, at least in Japan. The drives come with a full range of CyberLink software, besides PowerDVD 14, it also comes with PowerDirector 14, PowerProducer 5.5 and several other applications of the Taiwanese software vendor.