Microsoft tries to convince Chrome users on Windows 10 to switch to the Edge browser by showing them a popup stating Edge is better. The campaign seems to be another attempt from Microsoft to aggressively promote its own products. Previously the company was found to aggressively market Windows 10 to Windows 7 and Windows 8.1 users.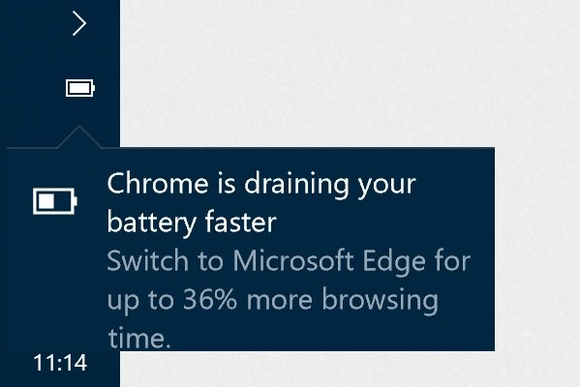 (image credit: Venturebeat)
The popup should convince Chrome users to switch to Edge and appears next to the battery percentage in the taskbar. It popups as soon as Chrome is started on some Windows 10 systems and states, "Chrome is draining your battery faster. Switch to Microsoft Edge for up to 36% more browsing time."
When asked a Microsoft spokesman told Venturebeat that, "Windows Tips notifications were created to provide people with quick, easy information that can help them enhance their Windows 10 experience."
The spokesman stresses that users can easily set any default browser and search engine they want. The information in the popup comes from a test Microsoft published last month. The conclusion of that test is that Edge would be the most power efficient browser. A claim that Opera challenged, however both Opera and Microsoft agree that Chrome is the most power hungry browser.