Samsung will repair, under warranty, displays that suffer from yesterday's reported vertical pink line on Galaxy S7 Edge smartphones, according to a spokeswoman of the electronics giant. In order to be eligible for a repair under warranty, the phone shouldn't have any visible fall damage.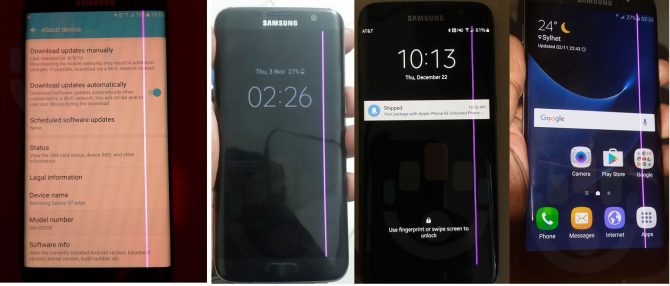 The statement comes from Samsung Benelux (BElgium/NEtherlands/LUXembourg) which was asked about the vertical pink line issue by Dutch technology website Tweakers.net. Samsung also told the website that it's aware of the problem but in particular with phones that have a cracked display due to falling. The spokeswoman added however that the issue also occurs on devices without any cracks in the screen.
Read on: Try these fixes before sending  in your S7 Edge for service
Dropping the phone can cause latent damage to the internal circuitry that controls the display of the phone. According to Samsung that often happens after falling. Falling increases the chance the issue with the vertical pink line, but also dead pixels, will arise. If the phone never felt, the vertical pink line issue would not occur. It's possible the problem starts some time after the fall, according to a spokeswoman of the Benelux subsidiary of Samsung.
Yesterday we reported that owners of Samsung Galaxy S7 Edge smartphones complained en masse on support forums and social media about a vertical pink line on their display. They all claimed to not have dropped the phone and that the device hadn't been in contact with liquids or had any other physical damage.
Samsung Benelux advices to use a smartphone case for the Galaxy S7 Edge to make it less vulnerable in case it falls.
While the Benelux subsidiary now stated to repair the vertical pink line issue under warranty, it's not entirely clear whether the same applies to other Samsung subsidiaries around the world. It might be worth to point them to this article to learn about their Benelux colleagues in case they hesitate to repair the issue under warranty for you.