Password manager Lastpass has doubled the price of its yearly Premium subscription. The yearly fee is increased from $12 to $24 and new Premium subscribers can no longer use the shared folders feature. This functionality is now only available for subscribers to the new Family plan which sells at $48 per year.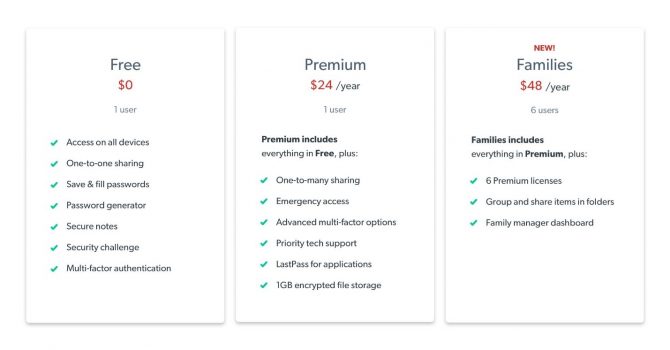 Lastpass announced the new subscription plans on its website. Premium users receive the same features as users of the free plan but for $24 they get some additional features such as e.g. One to many sharing' advanced multi-factor options and priority support. However, the shared folder features has been removed from the plan but existing subscribers will keep their shared folder, Lastpass stresses.
Unlimited sharing of folders is now only possible with the Family subscription that is now available at $48 per year for 6 users.
Free users also lose some functionality. Sharing is now limited to one person and emergency access is no longer part of the plan, existing users do keep the feature however.
Users on the Lastpass forums and on Twitter complain en masse about the changes.