Users have discovered that a new Insider version of Windows 10 intercepts the installation of Google Chrome and Mozilla Firefox. As soon as users try to install each of these browsers, the installation is paused and a popup appears stating, "You already have Microsoft Edge — the safer, faster browser for Windows 10".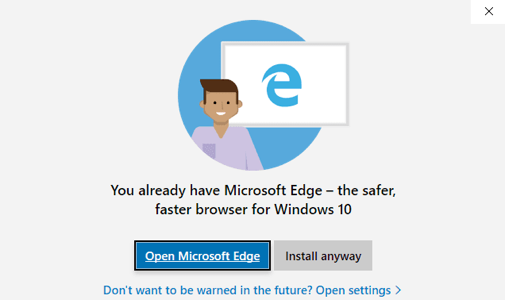 Users then have the option to either open the Microsoft Edge browser or install the other browser anyway. Users can also click the "Don't want to be warned in the future? Open Settings" link to disable the warnings from the configuration screen.
The screen has been discovered in Windows 10 Preview build 1809 and it's unclear whether Microsoft will add it to the actual Windows 10 October 2018 Update that is scheduled for next month.
Edge currently holds a market share of 4.24% on the desktop, according to StatCounter. That is far behind Google Chrome with 67.63% and Mozilla Firefox with 10.97%.