While it has become a niche type of photography, taking polaroid photos has become a trend. Invented in 1948, the polaroid camera only became popular during the late 80s. In the early 2000s, the polaroid was replaced by digital cameras.
Some people still take photos using the old camera as it immediately prints out the photo and it only takes a few minutes to develop. Most people use polaroid photos to capture a moment. And then they can instantly use the pictures as decor.
Thanks to social media, polaroid photos have taken a comeback. In fact, people even take photos of their polaroid photos to post online. Up next we're going to tell you how to decorate your bedroom with the help of polaroid photos.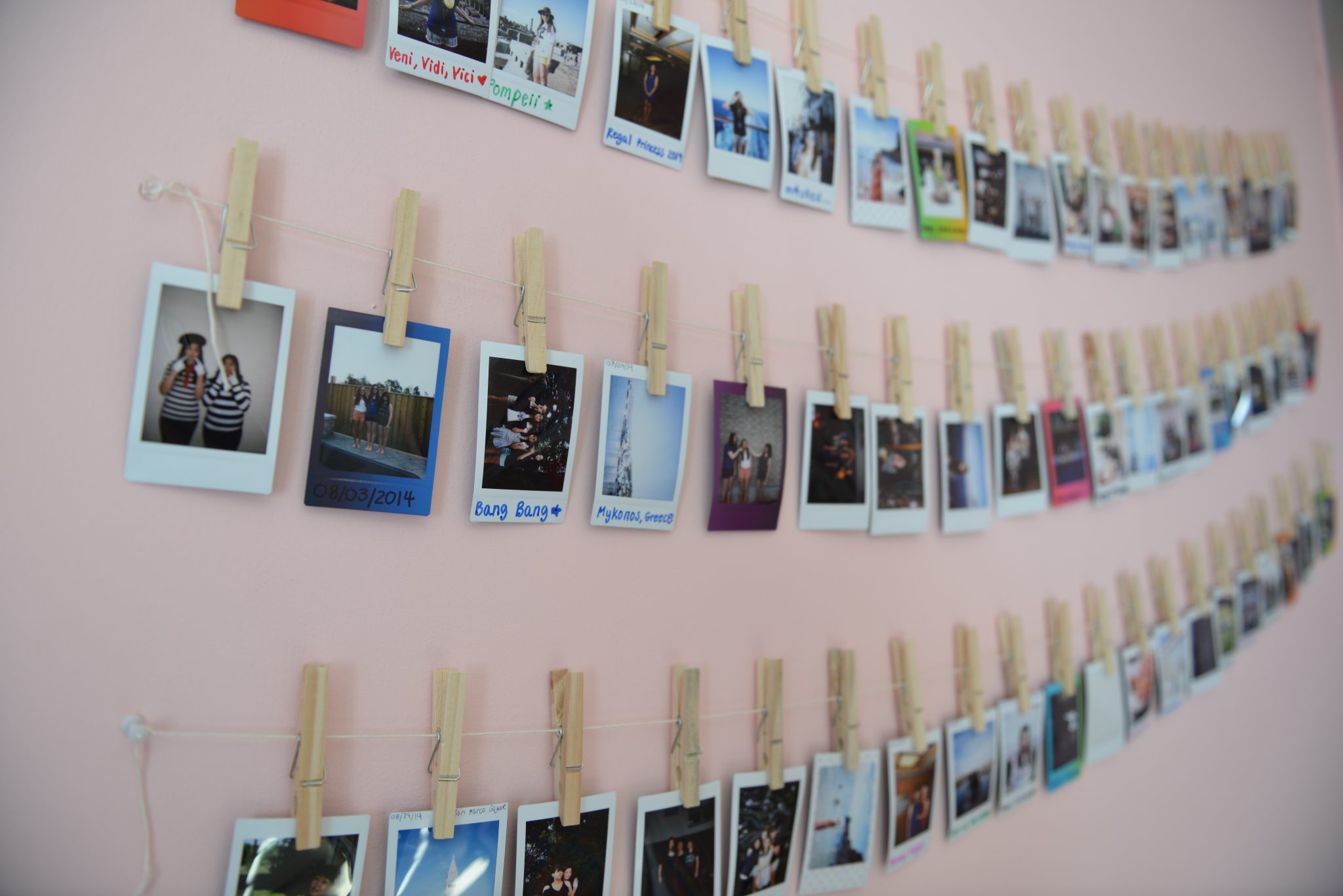 Clothesline Layout
One of the most popular and probably the easiest ways to use polaroid photos as part of your bedroom decor ensemble is the use of strings or a simple clothesline to clip all the photos together.
Once you have clipped all the photos, you may hang them over your bedside or above the bed frame as seen in many Instagram or Pinterest images.
Watch as you slowly add more momentous photos into the clothesline and the next time you see it, you will be surprised that it has filled up the wall alongside all the memories you had.
You can even add some lights to bring some brightness into your room at night.
Photo Ornaments
This one is very simple. All you need to do is to capture photos and produce them as usual. Once you have the polaroid photos ready, poke a hole at the top middle portion of the photo and add a string.
You can then hang the photos either on your Christmas tree to make it special or you can simply hang them over on your mirror or bedside to make it extra special.
Use colorful yarns to make the decor even more vibrant. You also try other materials to decorate the photo such as beads and wiggle eyes and attach them to the photo for some fun effect.
It's a classic way to use polaroid photos as your bedroom decor.
Wall Collage
You might see this design in coffee shops or chic cafes downtown but you can always emulate them in your bedroom. Simply gather all of your polaroid photos and make a collage on your favorite wall in your bedroom.
You can either place them randomly or have them in chronological order depending on your design. If you have plain walls in your room, this can be a good way to cover up some space and make your room feel vibrant.
You can still have this design if you have picture frames and wall clocks. You can simply section off a particular area and make it a wall collage section. Those who share a room can still have the wall collage design.
Simply place a pinboard on your side of the wall and place the photos accordingly. You can remove or change the design a lot easier and move the board from one place to another if you plan on redecorating.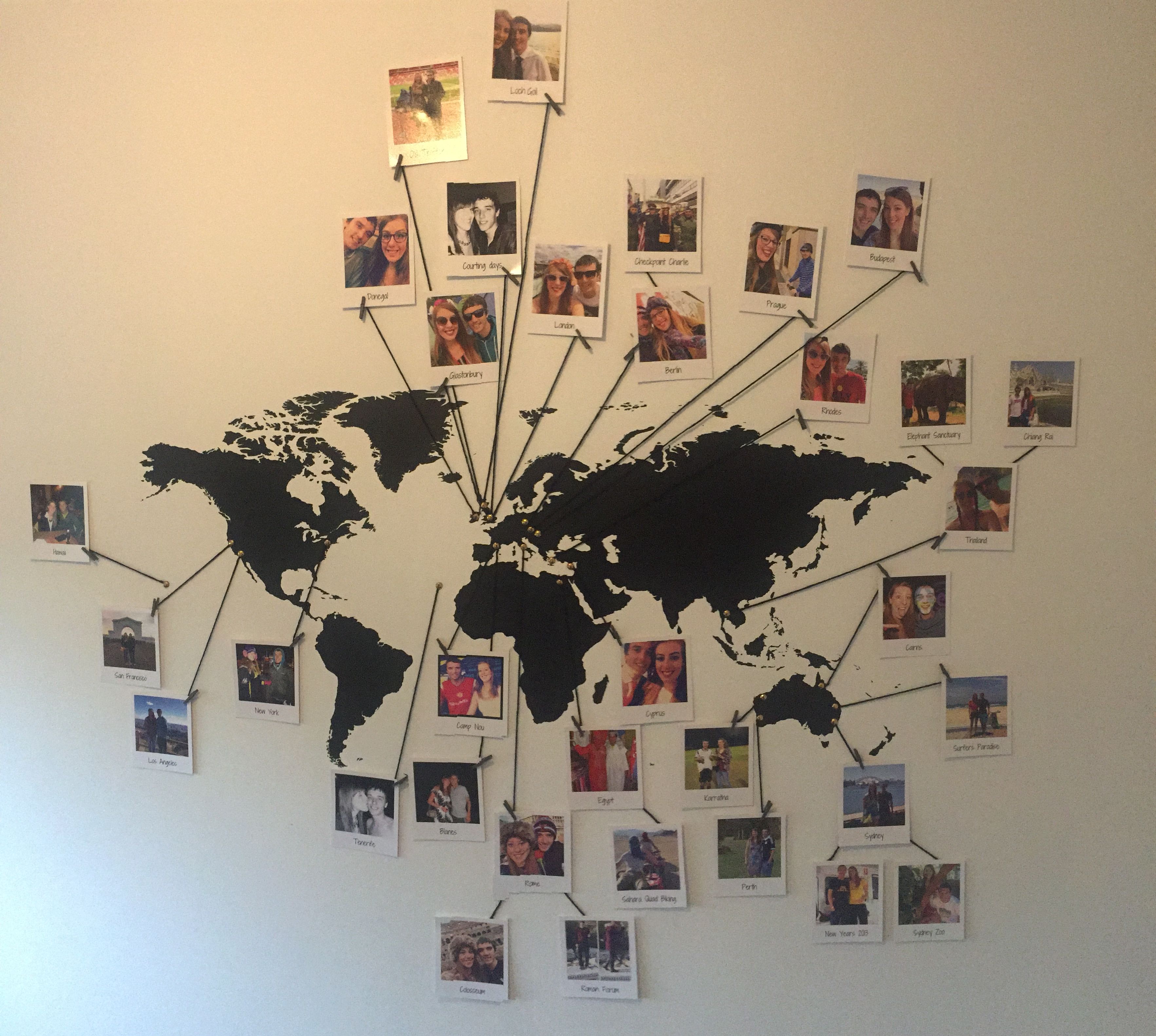 Map Collage
If you are an active traveler and you have fond memories of places that you've been as well as places you want to be, making a map collage out of your polaroid photos as bedroom decor will certainly remind you of the best times during your travels.
Capture each moment by spreading a large map into the wall and then place your most favorite photo on each country or place you have visited.
You can even surround the map with marked polaroid photos of the best places you've been to including all the memories that you have captured while traveling.
Additionally, you also get to be reminded every day that you need to travel once in a while when you look at your map collage.
Conclusion
There are a lot of ways to use polaroid photos as your room decor. Some would use grids to hang the polaroids and even use notes and other accessories to further enhance the design.
By using your polaroid photos as decor, you can really personalize your space and give it life through pictures.