Reading Benchmarks

---
HD Tune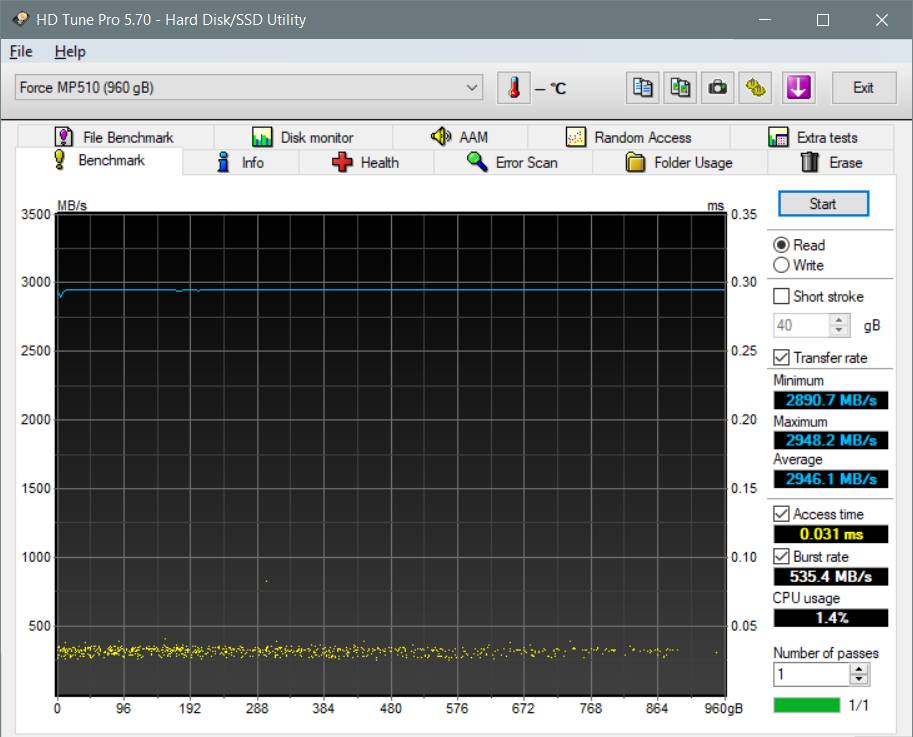 HD Tune Test – Sequential reading test

2946.1 MB/Sec that's insane.
---
ATTO disk benchmark
ATTO has become a standard tool for measuring the data throughput of HDDs and SSDs. It measures the reading and writing performance, using different file sizes and block sizes.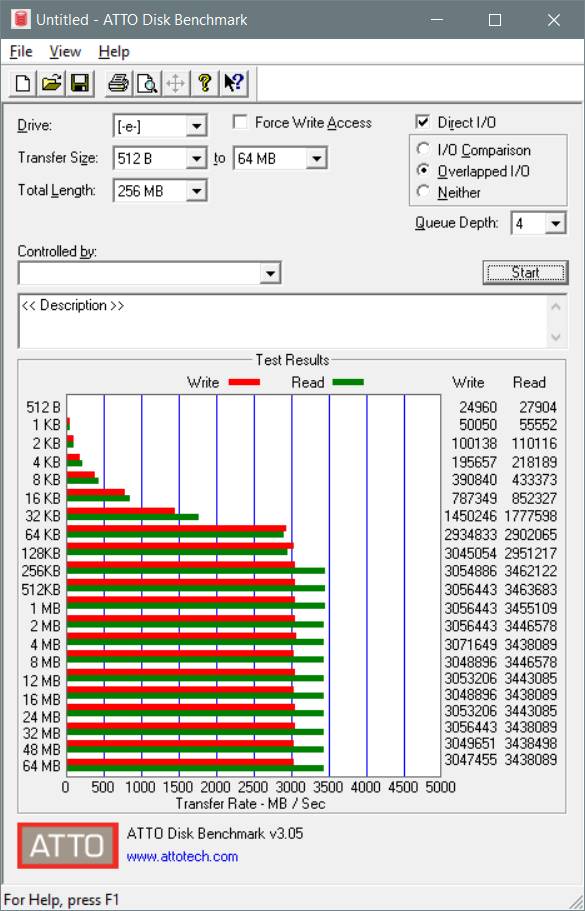 The Corsair Force MP510 SSD achieved its maximum speed on this test.
---
CrystalDiskMark 3.0
CrystalDiskMark is quite a handy benchmarking application, as it focuses on the file sizes that can cause problems for a system drive.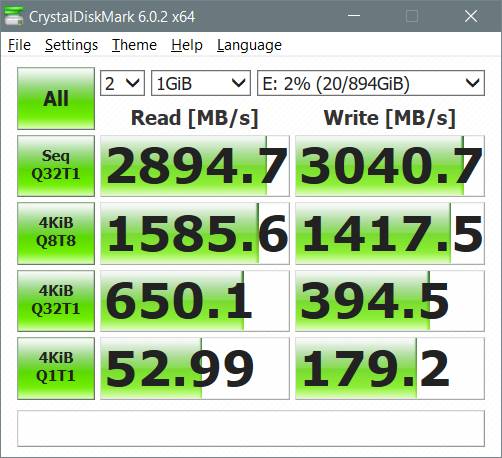 In this test the Corsair Force MP510 NVMe SSD gives an excellent result.
---
AS SSD Benchmark
AS SSD benchmark is a benchmarking tool specifically designed to test SSDs. The application tests sequential reading and writing performance, 4K random reading and writing performance.
AS SSD benchmark also tests 4K threaded performance. This is very exciting, as this test is the first available test that I am aware of, that simulates how a PC operating system actually works. A
modern PC and OS, such as Windows Vista/7 does not just run a single thread at a time, it runs many threads. The AS SSD benchmark "4K 64Thrd" tests run 64 threads simultaneously throughout the test. If this result is good, then you can be pretty sure the drive will perform extremely well as a system drive.
After the tests complete, AS SSD benchmark derives a total score for the drive being tested. This is based on all aspects of the test results, and gives an indication of how the drive is performing
overall.

Now let's look at the results for the Corsair Force MP510 NVMe SSD in the form of a screenshot. All our other comparison drives' results are presented in the form of a graph.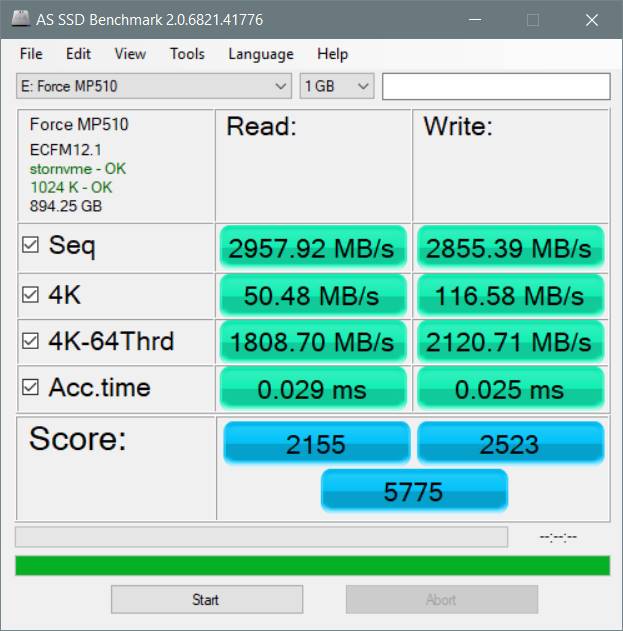 So far I like what I see. The Corsair Force MP510 SSD gave a score of 5775 and is simply the best that I have seen so far.
Anvil's Storage Utilities
As well as performing SSD endurance tests. Anvil's Storage Utilities has a very nice SSD benchmarking application. The SSD benchmark tests many different aspects of SSD performance, including 4K random at different queue depths, and also sequential performance, but more importantly than this, all using real test data.
Another very nice feature of Anvil's SSD benchmark is the fact that you can change the compression levels of the test data. The compression levels of the data sets used for the tests can be varied
from 0% compression right up to 100% compressed data, and there are even a few data profiles already included, such as database (8%) compression, and also an application profile (46%) compression, which is designed to simulate real application data being read and written to the SSD.
I will include a screenshot of the review drive, and all comparison results will be presented in the form of graphs. If you would like to see screenshots of the test results obtained on the other
SSDs in this article, you can do so by following the link here.
So, let's begin the tests.
100% incompressible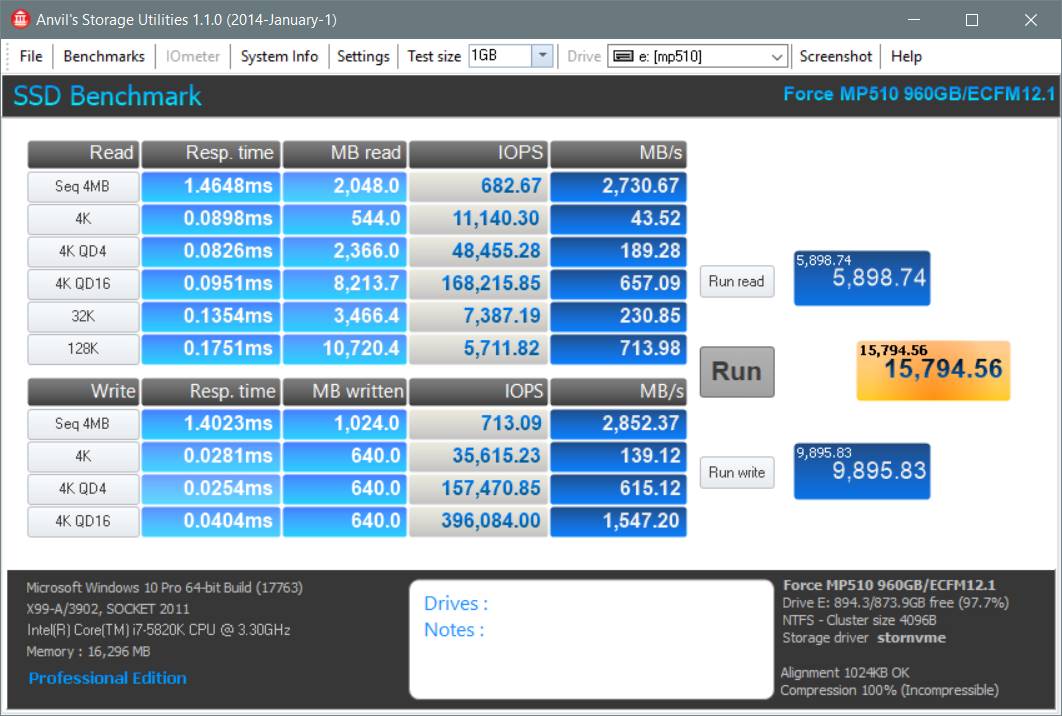 Corsair Force MP510 960GB NVMe SSD (100% incompressible)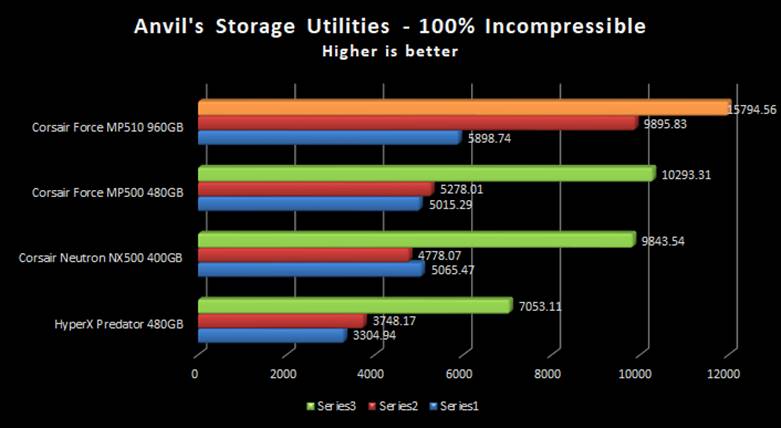 Results are based on the highest total score.
Once again the Corsair Force MP510 NVMe SSD gave an outstanding performance.
Let's head to the next page and run some tests using PCMark 8….