Review:
Micron 5100 MAX

Reviewed
by: J.Reynolds

Provided
by:  Micron

Firmware
version: DOMU012
Introduction
Welcome to Myce's review of the Micron 5100 MAX SATA 960GB
Enterprise SSD.  This is the first of two reviews featuring Micron's 5100 range
– the next will be for the Micron 5100 ECO 1920GB model.
All models in the 5100 range feature Micron's 24 layer, eTLC
3D NAND.
Micron considers the 5100 MAX's closest competitors to be
the Intel SSD DC S3610, the Samsung SM863, the Sandisk Cloudspeed Ultra Gen II,
and the Toshiba HK4E.  We have previously reviewed the Samsung SM863 and the
Toshiba HK4E and we considered them both to be exceptional products, so tough
competition indeed.  Please read on to see how the Micron 5100 MAX stands up.
Market Positioning and Specification
Market Positioning
Micron announced the Micron 5100 Series of SATA Enterprise
SSDs in December 2016.  The 5100 Series is available in three workload focused
configurations:
Micron 5100 ECO (Endurance class – <1 DWPD)
Read intensive applications (e.g. content sharing, video and
media streaming)
Micron 5100 PRO (Endurance class – 1-3 DWPD)
Mixed, latency sensitive workloads (e.g. Databases,
e-commerce, trading transactions, etc.)
Micron 5100 MAX (Endurance class – 5 DWPD)
Write intensive applications (e.g. logging)
Micron seeks to differentiate the 5100 Series through the
introduction of its Micron FlexPro Architecture. The FlexPro
Architecture enables customers to change the usable capacity of a drive, and
thereby the level of Over Provision (the amount of NAND set aside to support
the drive's controller in its maintenance of performance and endurance) at the
firmware level.
Customers are readily able to make an additional OP at the
OS level (by restricting the amount of data that is written to a drive, through
for example allocating partitions that do not occupy all of the drive's user
capacity).  We will seek to test the difference in effectiveness between making
a firmware level additional OP and an OS level additional OP in our upcoming review
of the Micron 5100 ECO 1920GB. 
The subject of this review is the Micron 5100 MAX 960GB,
which has a raw NAND capacity of 1536GB (and thus an unusually high standard OP
level of 576GB).  Micron asserts that its use of 3D TLC NAND, where many of its
competitors use MLC NAND, gives it a cost advantage that allows for increased
levels of OP while maintaining a competitive price.  Does Micron have a winning
formula?  It's going to be interesting to find out.   
This is how Micron positions the best use cases for the
Micron 5100 Series –

Specification
Here is Micron's specification for the performance of the Micron
5100 MAX –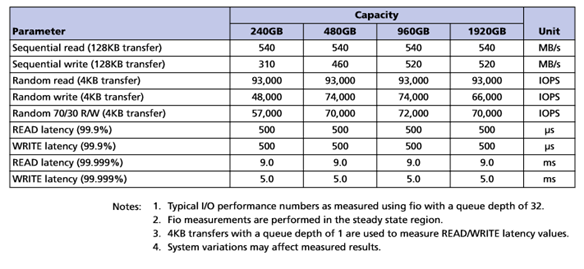 Here is a picture of the Micron 5100 MAX that I tested –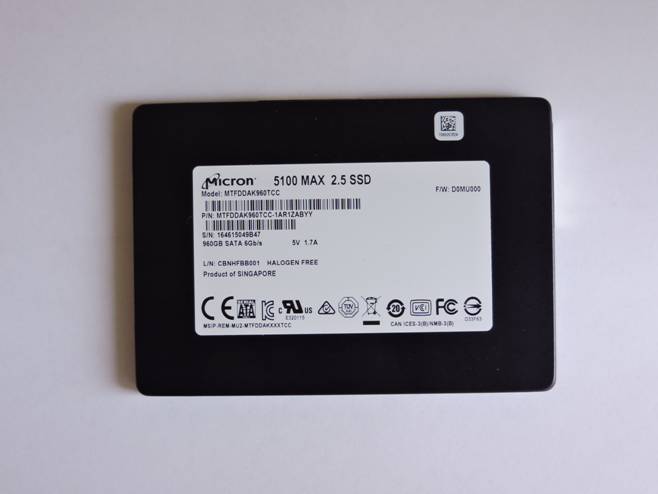 ---
Now let's head to the next page, to look at Myce's
Enterprise Testing Methodology…..