Review: Toshiba XG6 1TB

Reviewed by: J.Reynolds

Provided by:  Toshiba

Firmware:  AGXA4001
Introduction
Welcome to Myce's review of the Toshiba XG6 1024GB NVMe SSD
(hereafter referred to as the Toshiba XG6).
The Toshiba XG6 is the first product to feature 96 layer,
BICS Flash 3D memory, and it is expected to be become available in retail
channels during Autumn 2018. Prior to this the XG6 will be supplied as an OEM
product to Laptop, PC and Server suppliers.  I must be getting old as it feels
to me as if it was only yesterday that 32 layer 3D NAND hit the market.
Is it worth waiting for? Please read on to find out.
Pictures
I was supplied with a sample product without retail
packaging.
Here are some pictures of the 1024GB Toshiba XG6 I tested –


Market Positioning and Specification
This was taken from Toshiba's launch press release –
24th
July 2018, Düsseldorf, Germany – Toshiba Electronics Europe GmbH has
introduced a new lineup of solid state drives (SSDs) that are based on its
96-layer, BiCS FLASH™ 3D flash memory. The first SSD to use this breakthrough
technology, the new XG6 series is targeted to the client PC, high-performance
mobile, embedded, and gaming segments – as well as datacentre environments for
boot drives in servers, caching & logging, and commodity storage
Here is Toshiba's specification for the XG6, again taken
from Toshiba's launch press release –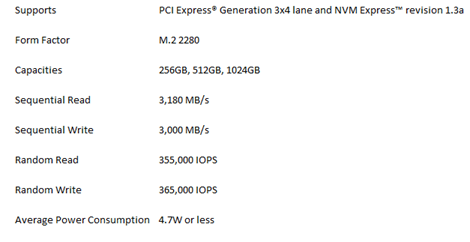 ---
Now let's head to the next page, to look at my approach
to testing Client SSDs…..