Microsoft today officially announced that the Creators Update for Windows 10 will be gradually rolled out to users from the 11th of April. Yesterday a tool appeared online that allowed users to update before the official released but the company pulled it today.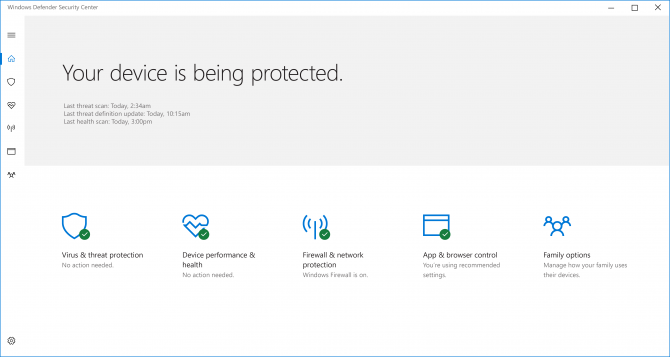 (Windows Defender Security Center)
The Creators Update will be a free update for all Windows 10 users and Microsoft will also introduce new markets for the Surface Studio and Surface Book, according to the announcement on the company's blog.
An important part of the Creators Update is 3D which is underlined with both Paint 3D and the release of Windows Mixed Reality-enabled headsets that according to Microsoft, "enable immersive experiences that blur the lines between the physical and virtual worlds". The first devices will be sold by Acer, ASUS, Dell, HP, and Lenovo and should become available later this year starting at $299. Microsoft promises that these devices are easy to setup and allow for free movement without the need for external markers or sensors in the wall. (see video at the bottom of the post)
Also new is the Beam feature that allows to stream games on both PCs and the Xbox One. Microsoft also claims that Edge will be faster and safer after the Creators Update and the browser will also get 'advanced tab management'. In the announcement of the Creators Update Microsoft also boasts that Edge is currently the only browser that allows playback of 4K Ultra HD Netflix movies and series.
The Creators Update also adds a bluelight filter which should help to sleep better by reducing the blue light emitted by the display, something already popular amongst smartphone users.
Also gamers should benefit from upgrading because of the game mode that should make sure the system performs optimally when playing games.
Microsoft has also added a new privacy setting screen at the installation process that should give users more control over what they share with Microsoft when using Windows 10. It's e.g. possible to set whether the OS can send your location, diagnostic data and speech input to Microsoft.
The company claims that Windows 10 has the most robust security protection and it has added the Windows Defender Security Center to the Creators Update. Which is a single dashboard to control all security settings from a single place. It comes together with the Device Health Advisor that gives information on 'vital signs of your device'.
After upgrading, Windows 10 users can also use Windows Hello together with a paired iPhone, Android or Windows Phone device. With the remote lock feature the PC is automatically locked when you step away from your PC. The remote lock feature also works with fitness bands and other devices that can be paired with the PC.
Yesterday it was already possible to upgrade to the Creators Update using a tool provided by Microsoft. Also ISO files with the update appeared online. Today both the tool and the ISO files were pulled.