Microsoft today released an extension for Google Chrome that should protect users of the browser against phishing and malicious websites. The extension is available in the Chrome Webstore under the name Windows Defender Browser Protection.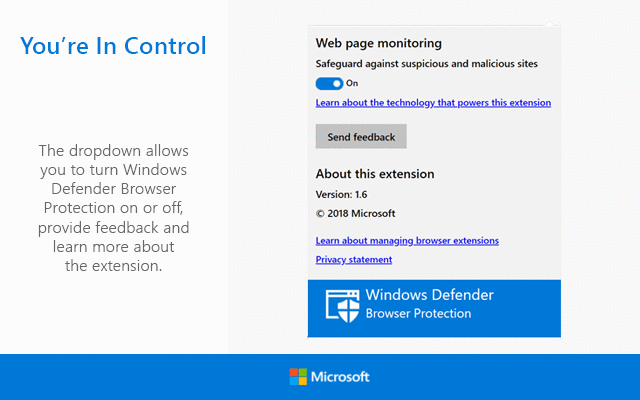 Once installed, the extension checks requested links and websites against a Microsoft administered blacklist that is continuously updated, according to the software giant. When the user requests a malicious website, the extension will show a red warning screen stating the requested site is harmful. With a single click users can then return to a safe page.
It's likely the Windows Defender Browser Protection extension simply plugs into Microsoft's Smartscreen technology that is also used to protect Edge and Internet Explorer users against malicious websites. Chrome already has similar functionality, Google calls it Safe Browsing. Besides protecting Chrome users, Safe Browsing also protects users of Mozilla Firefox and Apple's Safari browser.
Nevertheless, Microsoft's Smartscreen might still be a good addition for Chrome users, in tests performed by NSS Labs, Smartscreen outperformed Google's Safe Browsing.  The Edge browser with Smartscreen enabled blocked 99.5% of all threats, while Safebrowsing enabled in Google Chrome blocked 87.5% of the threats.