Social media platform Reddit revealed that quietly released a video feature inspired by TikTok on its iOS application, said Tech Crunch. The company is yet to announce when the feature will roll out for all devices.
Reddit, known for its simple look and discussion-focused communities, has taken inspiration from the Chinese social media application TikTok, which boomed across the globe over the past year. TikTok rose to fame thanks to its short-video-focused platform.
The new feature for iOS provides users with a simple button which they can tap view short videos similar to TikTok's layout.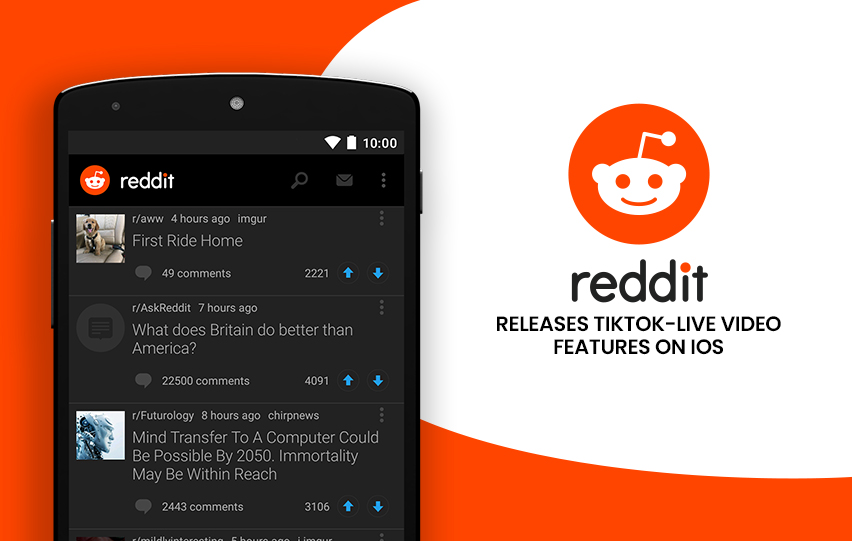 This move is consistent with the social media company's acquisition of Dubsmash in December 2020, which is a video-focused platform and is seen as a TikTok competitor. It had also been developing Reddit Public Access Network (RPAN), an in-house content broadcasting platform.
What makes the discussion forum's take different is that it gives users the ability to upvote or downvote content, just like with regular posts on the platform. Viewing the videos will show users who posted the content and which subreddit it is from.
Users can discover content by watching a stream of suggested videos, viewing content from subreddits they joined and checking related videos.
The goal of this new feature is not only to cash in on a popular feature but also to keep the platform's goal alive.
A Reddit spokesperson told Tech Crunch, "Reddit's mission is to bring community and belonging to everyone in the world, and subsequently, Reddit's video team's mission is to bring community through video."
They added, "Over the course of the last year, our goal was to build a unified video player, and re-envision the player interface to match what users (new and old) expect when it comes to an in-app video player – especially commenting, viewing, engaging, and discovering new content and communities through video."
This is not the first time Reddit has added a video feature to its platform. Over the past years, the company has been experimenting with different layouts for its users.
However, users had to tap on videos to play them. Users also need to scroll through their feed, which is a mix of video, text, and image posts.
Reddit is not the first to implement such changes to emulate TikTok's successful feature. Just recently, Instagram and Snapchat came up with Reels and Spotlight, respectively. Both features are designed to provide a similar experience as what TikTok has to offer.