A Russian company informed us they have found a way to remove the AACS copy protection of Ultra HD Blu-ray movies. The company, called Arusoft, offers a trial of their software 'DeUHD' that limits decrypting to a single disc and only 8 – 10 minutes.  The software sells at €199 (about $233) and doesn't decrypt regular Blu-ray discs.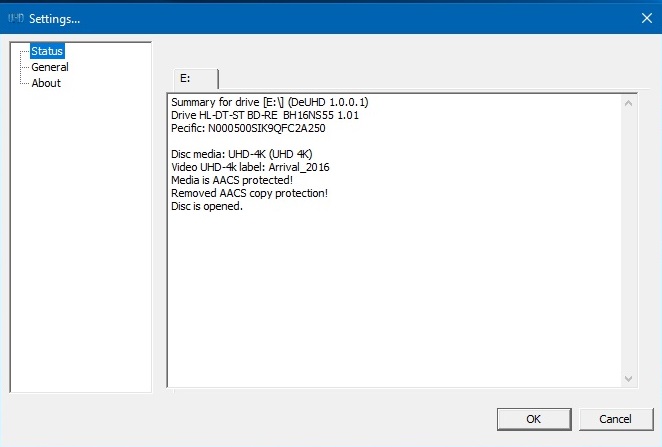 There is currently little information available about the company Arusoft other than that they state to be Russian developers. Nevertheless, the developers claim to be able to remove the (AACS 2.0) copy protection from Ultra HD Blu-ray discs. DeUHD  works on Windows 7, Windows 8(.1) and Windows 10. It does its job in the background and will automatically rip Ultra HD Blu-ray movies when inserted in a compatible optical drive.  The resulting decrypted movie can either be saved as folder or ISO file to the HDD and played back with software like VLC Player, Media Player Classic or KMPlayer. Arusoft claims the picture quality is 1:1 with the original.
DeUHD software doesn't work on all Ultra HD Blu-ray players and with all movies yet. Currently supported devices are  LG WH16NS40, LG BH16NS40, ASUS BW-12B1ST, ASUS BC-12D2HT, ASUS BW-16D1HT, LG BE16NU50, LG BH16NS55 and the LG WH16NS58. The developers write on their website that support for more optical drives will follow soon.
Also not all movies can be decrypted yet, currently the software is able to decrypt about 30 movies according to the Arusoft website. Amongst others, these are The Martian, Mad Max: Fury Roaddisc, The Amazing Spider-Man, Life of Pi, Independence Day, Central Intelligence, The Shallows, X-Men: Apocalypse, The Legend of Tarzan, Star Trek Beyond, War Dogs, Miss Peregrine's Home for Peculiar Children, Suicide Squad, Sullydisc, Jack Reacher Never Go Back, John Wick, Hacksaw Ridge, Passengers, Sing, Fantastic Beasts and Where to Find Them. A full list with all supported movies can be found here.
According to Arusoft, there will be new movies supported every week and users can request/report new discs to be supported. Decryption of a disc takes about 4-6 hours, Arusoft tells us.
You can download the trial software here and purchase it here.
Discuss this software in our DeUHD Forum.
Update: Arusoft now gives away 5 licenses to people who test the software.
Update 2: The first user has reported success with the software. Check out his experiences here.