WhatsApp has added a feature to the latest beta version of its messaging app that allows users to view and download the data collected about them. The company likely added the feature, to comply with upcoming privacy regulations in the European Union. From May 2018 there are new privacy regulations for companies who collect and store data about European citizens.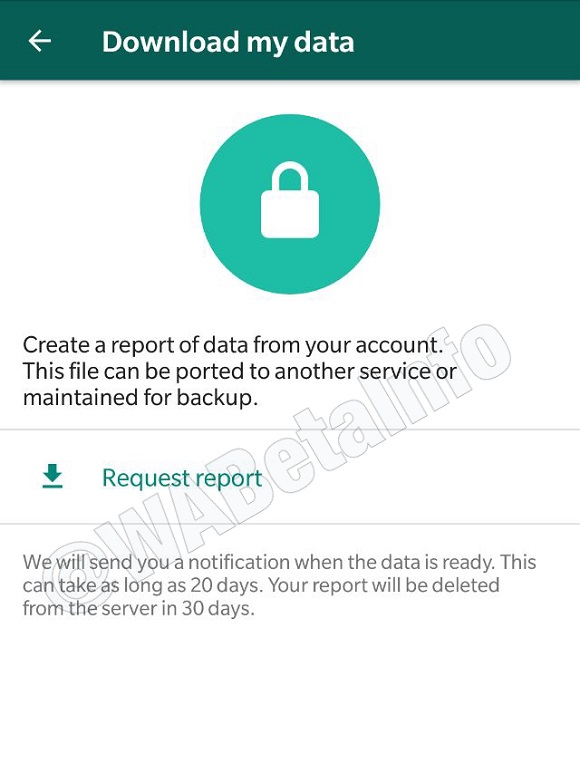 (Screenshot of the feature – credits WABetainfo.com)
WABetaInfo discovered that version 2.18.50 of Whatsapp (beta) adds a new feature that should help to make Whatsapp comply with the upcoming European, General Data Protection Regulation (GDPR). Amongst others, this regulation requires companies to offer the data they collect about users in a portable format. In other words, users have to be able to download the data collected about them in an workable format that can also be electronically imported in another system.
Whatsapp appears to be preparing for the GDPR, and in beta version 2.18.50 it has added a feature that allows users to export the data collected by the messaging service about them. The feature can be found as an option in the privacy settings of the application. From there, a report about the user's account can be requested that can also be imported to another service or maintained as backup. The messaging service gives itself a maximum of 20 days to compile such a report, after which the report remains available for 30 days.
Besides that users should be able to export data collected about them, the GDPR also requires companies to be more clear what kind of data they store and for how long and users should also be able to easily find contact details about the person in charge of data collection. Another part of the regulation requires companies that allow users to customize their privacy settings, to enable the highest privacy level by default.
Users should also know upfront what kind of data is collected about them and users need to explicitly give their consent to collect and store that data. For children younger than 13, their parents have to give their consent.
Once data is collected and stored, users have the right to be forgotten. In practice this means they can demand their data is deleted under specific circumstances.
There will be one European privacy authority that will check for violations of the regulations, and they can issue higher fines than before. These can be as high as  €1.000.000 ($1.250.000) or 2% of the yearly revenue.
Also other companies, like Whatsapp's parent company Facebook, but also Google, Microsoft, Amazon and other tech companies will need to comply with the new regulations. It's expected we'll see them provide similar features to at least users that live in a country that is part of the European Union.