Animated photos refer to the process of manipulating figures so they appear as moving images. Traditionally, images used to be drawn or painted by hand on celluloid transparent sheets so they could be photographed or exhibited on film.
Today, these animated photos can easily be edited using an app. This is actually the newest technology that includes the use of photos to make GIFs. It is so popular that it has taken the center stage in today's social culture.
These loops can be quite entertaining, and they can be used to express what words are not able to do. Now, if you have been thinking of creating these animated photos with a free-to-use app, then read on, as we will be highlighting how to download the free and easy to use Pixaloop App in this article.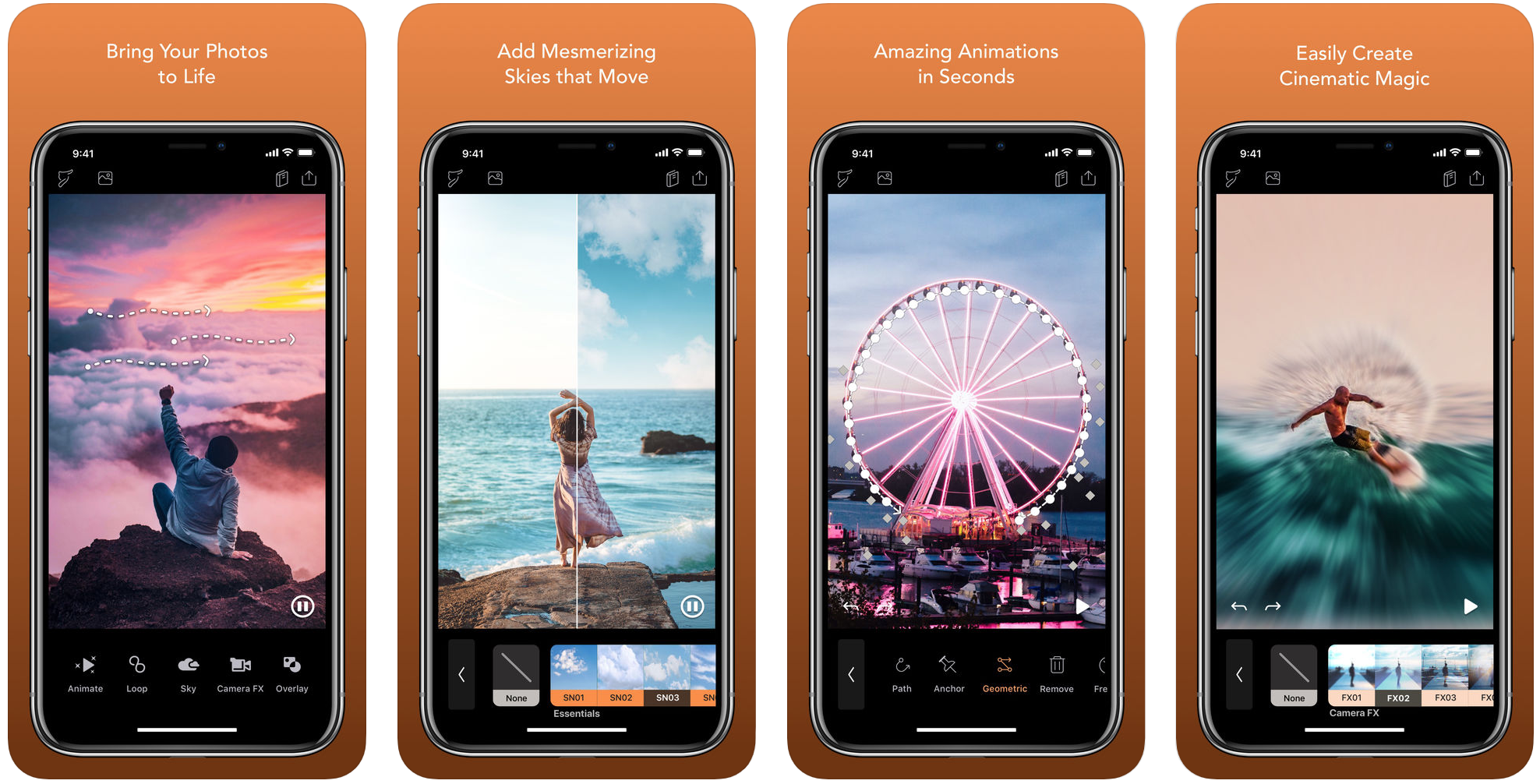 How to Make Animated Photos with the Pixaloop App
Photo animation can be done very easily with this app, which has been chosen as one of Google Play's best apps of 2019.
It is currently part of the Creative Kit – which was previously named, Enlight. You can animate photos with the Creative Kit's amazing picture editing tools, and the process is pretty easy.
Procedure
You can bring your photos to life with just a few taps on the app. You can also create a photo animation, from the flicker of a flame to cascading waterfalls.
There are so many endless creative possibilities when you use the Pixaloop app. You should start by editing pictures into the animated photos app.
Next, use the arrows to add movement, control what moves with the anchors, and even choose the speed.
The picture effect tools are actually based on artificial intelligence, and this makes it easy for you to define whole areas on a photo, and then fine-tune them for more control.
Editing Tool
The Pixaloop app will allow you to easily edit the photos precisely, powerfully, and quickly. Simply use the picture animation tools on the app.
You will then be able to see the image come alive. It also has some real-time edits that you can create to form mesmerizing moments of art.
This app will bring your images to life and create picture effects and cinemagraphs that will wow you, your friends, and your followers, and the best part of all is that the app is free.
This means that you can use it as often as you wish without spending a single penny.
Other Features of the App
You can add photos when animating them with very few taps on the app. This saves you time and effort.
You can use the simple arrows that are already on the app to set the photos in motion using the directions that you want.
Anchor the photos using the points, which will limit the photo motion and hold the parts of the animated photo in place. You can also freeze some sections of the photos using the freeze brush.
Animate Your Photos with Sky
You are able to replace the imagery of the photos with blue skies and colorful sunsets as you wish and even add some clouds.
Also, choose from a wide variety of automated skies that resemble a time-lapse, and get the visual you have been looking for.
Animated Photos with Overlays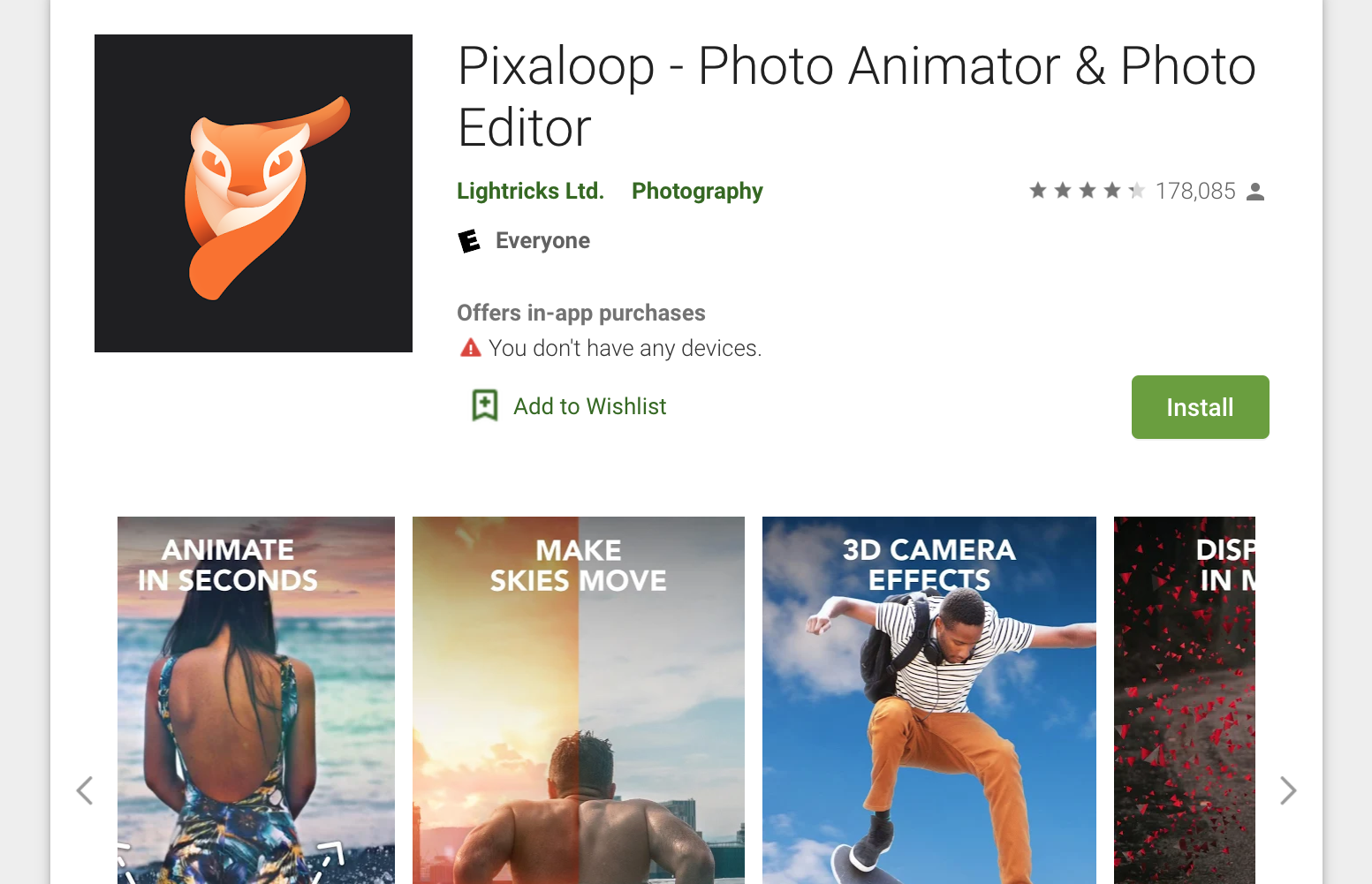 The photo filters and the fun overlays will bring in the emotion, mood, and movement to your still photos.
You will also be able to share the photos in stories on your social media platforms and social feeds.
The animated effects of the pictures with sparkles, weather overlays, and many more will create a motion graphic that resembles cinemagraphs and makes the stories look real.
Conclusion
With this app, you are assured of having quality animated photos for your social media platforms, and you'll attract even more followers to your page.
Get started using the impressive Pixaloop app today.