In need of a credit card that gives you valuable rewards for travelling and other aspects of your lifestyle?
Do you want to be able to get great rewards and points for spending on the things you buy most often? If this is what you are looking for, then Chase Bank surely has something for you in the Chase Sapphire Preferred Credit Card. 
Read on to learn more about the benefits and features of this Visa credit card and how you can apply for one today.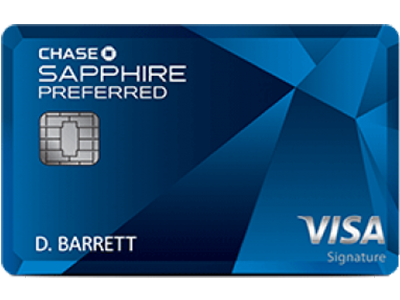 Benefits and Features of a Chase Sapphire Preferred Credit Card
One of the most important features of the Chase Sapphire Preferred credit card is that it offers various bonuses that are definitely worthwhile. You can earn as many as 60,000 bonus points when you spend a minimum of $4,000 on purchases within three months after the account opening. 
Moreover, you can get more value for your points, as you are eligible for 25% more value when your points are redeemed for travel purposes. When combined, this can amount to a whopping $750 if you choose to redeem your bonus points for travel. You can also earn 1 point for every dollar you spend on other purchases. Your rewards are also transferable from your Chase Sapphire Preferred credit card to other travel programs. This comes at a 1 to 1 value. Airline partners in this program include Flying Blue AIR FRANCE KLM, Iberia Plus, JetBlue TrueBlue, and more. 
Whenever you travel, you can take advantage of the bank's trip cancellation/interruption insurance, which can reimburse you for up to $10,000 per person and $20,000 per trip. Other travel-related benefits you can avail include auto rental collision damage waiver, baggage delay insurance, trip delay reimbursement, and travel and emergency assistance services.
Aside from this, you can also get 2x points when you use your card for travel and dining purchases. This includes tickets, hotels, and dining. And should you choose to use your card when overseas, you do not have to worry about fees, as the bank does not charge foreign transaction fees.
Now that you're familiar with some of the amazing benefits of this Preferred credit card, let's find out rules of eligibility and how you can apply today.
How to Apply for a Chase Sapphire Preferred Credit Card
Before you can apply for this offer, you must be 18 years old or older. Keep in mind that the qualified age in AL and NE is 19, while in Puerto Rico, it is 21. You will also need to provide your total gross annual income and your primary source of income (employment, unemployed, self-employed or others).
Aside from the above information, you will also need to present your type of residence, along with your SSN or TIN and contact information. Head to the Chase Bank website to know more.
Keep in mind that your interest rates and credit limit will be assigned depending on your creditworthiness, which will be determined based on your credit, financial, and employment status.
Chase Sapphire Preferred Credit Card Fees and Charges
Keep in mind that it is always necessary to pay your credit card on time so that you don't badly affect your credit score. Take a look at this brief overview of fees and rates you can expect with this credit card. For more detailed information, refer to the Pricing and Terms guide on the Chase website.
Annual fee – $95
Purchase APR – 18.24% to 25.24% APR
Balance transfer APR – 18.24% to 25.24%
Cash advance fee – $10 or 5% 
Balance transfer fee – $5 or 5%
Late payment fee – up to $39
Address & Contact Information
Address: 383 Madison Avenue, New York City, New York, United States
For credit card support you can contact Chase on 0011 1 302-594-8200.  
Conclusion
With a card like the Chase Sapphire Preferred credit card, you can make the most out of your expenditure when you travel. With the rewards and redeemable perks, you can save money, experience VIP treatment, and even get insured whenever you travel. This way, you can maximize the value of your credit card for your travel necessities without breaking the bank. 
Note: There are risks involved when applying for and using a credit card. Please see the bank's Terms and Conditions page for more information.