In this review we're going to look at the service provided by VPN provider ExpressVPN. We're going to look at its privacy protection features, region unblocking functionality, usability and the speed you can expect when browsing and downloading through the VPN.
About ExpressVPN
ExpressVPN has a VPN network that spans 136 cities in 87 countries. The company is located in the British Virgin Islands.
A monthly subscription costs $12.95,  when paying annually you pay $99.95 year  (which is $8.32 a month). The company also has a 6 month subscription available at $9.99 a month. It's possible to test the service first thanks to its 30 day money back guarantee.
Privacy
We base our privacy results on the sheet from ThatOnePrivacyGuy. ExpressVPN it does zero-logging on your traffic, but the ThatOnePrivacyGuy sheet reports this VPN provider logs timestamps and traffic. It doesn't log IP addresses
ExpressVPN is based in the British Virgin Islands which is part of the United Kingdom. However, according to ExpressVPN, British Virgin Islands has no data retention laws and for ExpressVPN to consider a court order to be legally binding it has to come from a court on the British Virgin Islands.
The company accepts Bitcoin for anonymous payments
Regular speed
First a screenshot of Ookla's Speedtest.net result, using automatic server selection. The screenshot shows the ping, download and upload speed of the connection without using the VPN. The connection used in this test has a latency of 16ms and can is able to reach speeds of 38.61 Mbps for downloading and 3.61 Mbps when uploading.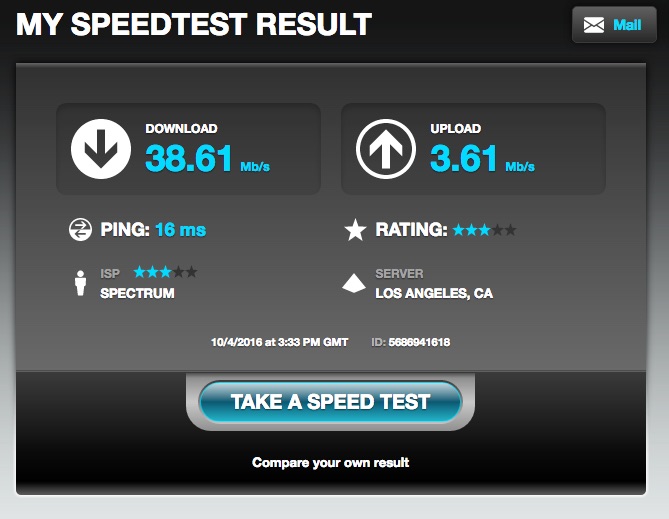 VPN connection speed
The speed of the VPN is tested by doing speed tests on servers located in 3 different physical locations far away from each other. We provide a screenshot of the speed in Amsterdam (Netherlands), Yokohama (Japan) and Los Angeles(United States). All performed using Ookla's Speedtest with automatic server selection.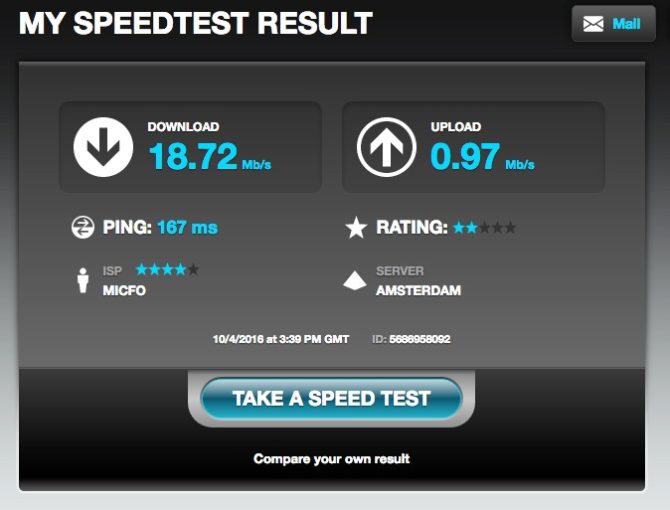 The result first is from Amsterdam, we see less speed compared to the VPN-less connection. The Amsterdam server achieves a download of 18.72 Mbps and upload of 0.97Mbps. This means it utilizes only half the bandwidth the internet connection has available. The latency of 167 ms is also relative high.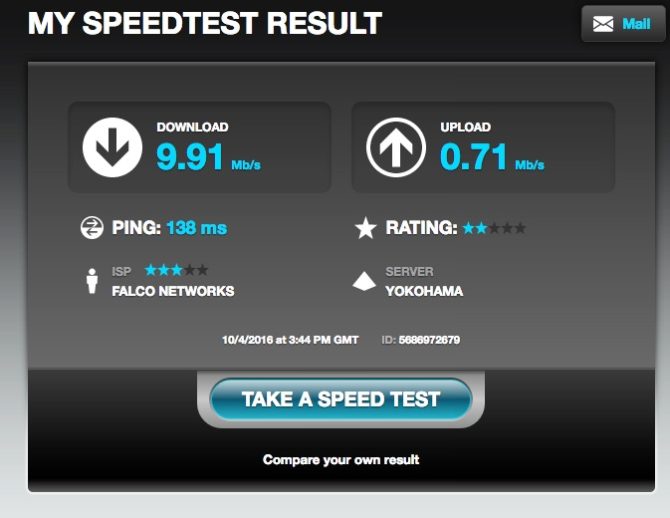 Second is the test in Japan . The Japan server performance slower than Amsterdam with a download of 9.91 Mbps, and upload of 0.71 Mbps and latency of 138 ms. It should be sufficient for most tasks, but it's far from speedy.
The third location tested is in Los Angeles, the United States. The download of 28.06Mbps is sufficient for pretty much anything you'd like to do with the VPN, just like the upload of 2.90 Mbps. The ping of 16ms is excellent.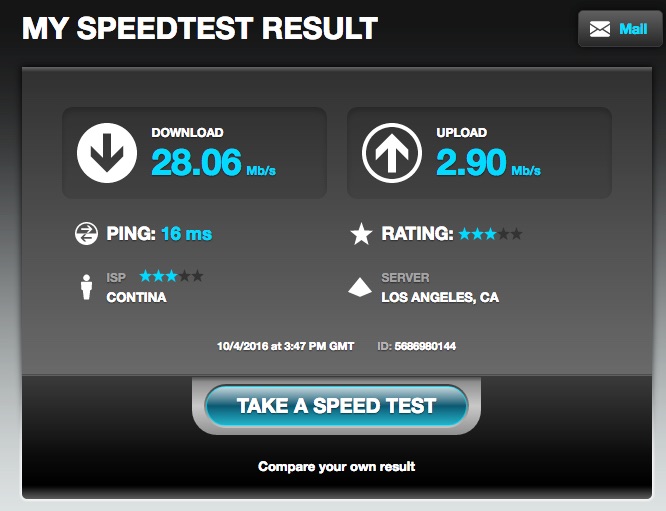 Download Ubuntu Image
We test real world performance by testing the download of an Ubuntu image using uTorrent using a random VPN server of the provider. When downloading a speed of 3.8Mb/s (30.4 Mbps) is achieved.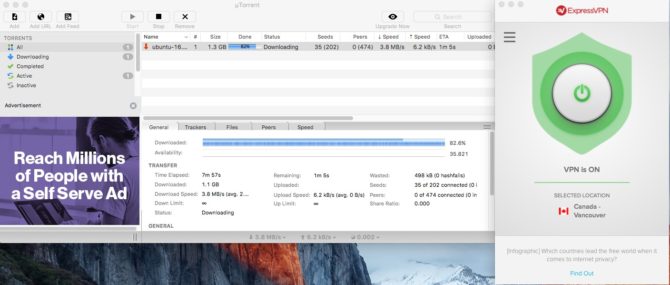 Usability
Besides performance of the VPN provider, also usability is important. ExpressVPN provides you with a Windows client that we think looks great and is easy to use. The client software allows you to choose a server from a list, to see whether the server will be responsive, the ping is added to the list. It's possible to mark your favorite server for easy connecting to it.
Besides a Windows clients, there are also clients for Mac OS X, iOS and Android.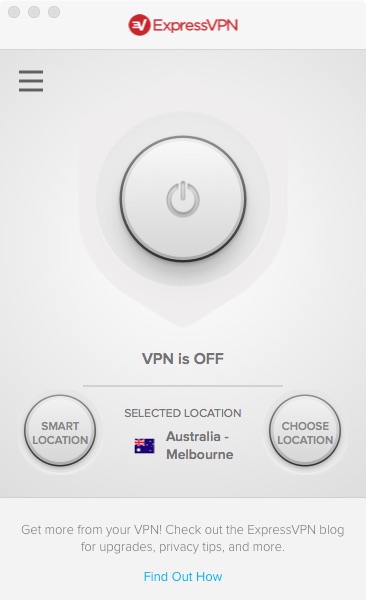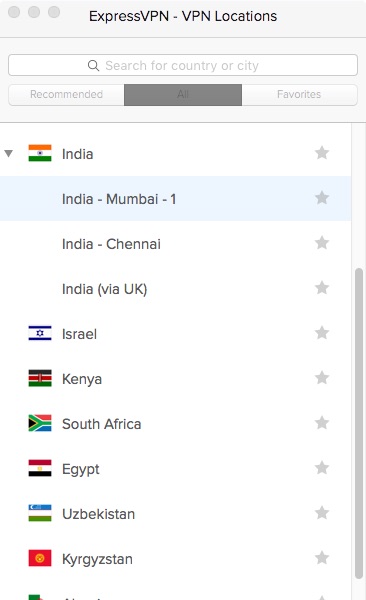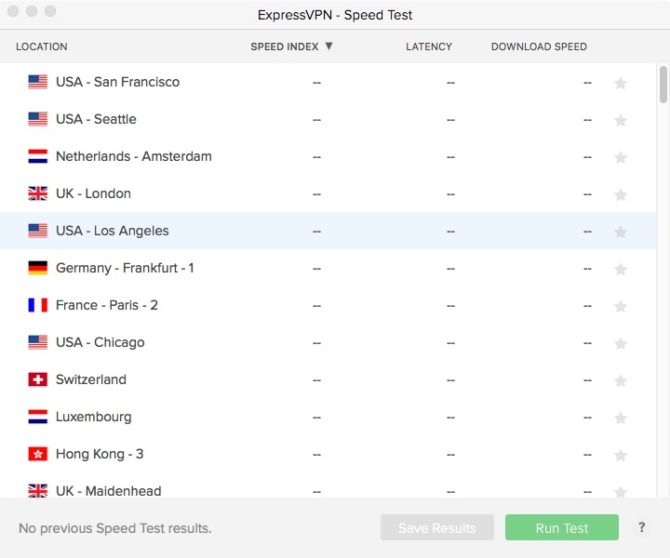 Besides the client software, VPN providers usually also have an online administration area where you can review your subscription information and download client software. Just like the client software, the ExpressVPN online area is well designed and easy to use.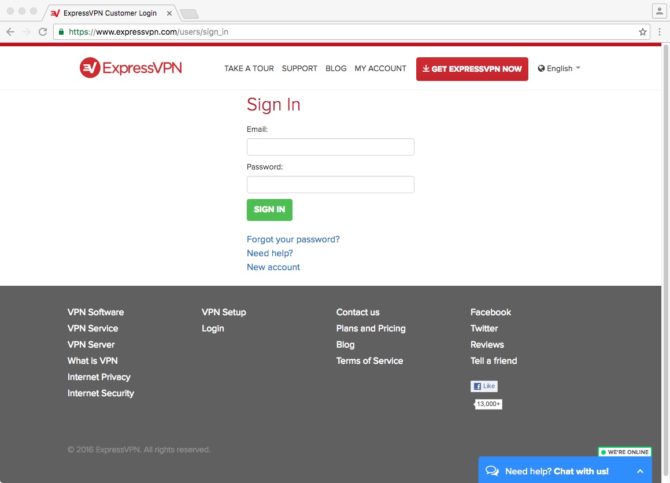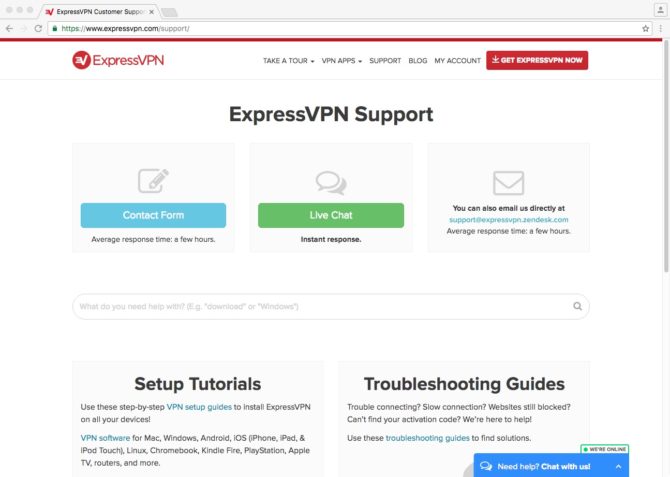 Region unblock
Besides anonymity, another important reason for users to resort to a VPN, is the possibility to circumvent geoblocks. This makes it possible to view content that's normally not available in your region. One service that uses geoblocks is Netflix and the video streaming service has recently become more strict in VPN usage. Netflix is blocking servers of major VPN providers and therefore this test.
For this test a VPN server located in the United States was used to connect to both Netflix and Hulu. As you can see below, the region block was bypassed by ExpressVPN's servers.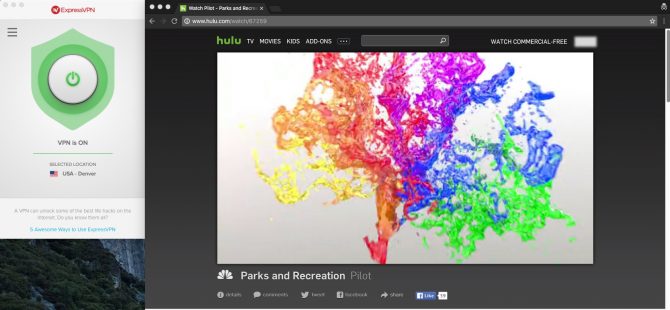 Conclusion
ExpressVPN has the clear advantage of being based of the British Virgin Islands, an offshore country. If you want to hide your identity for other websites or other non-government services then this could be a big benefit.
Pros
Fall under jurisdiction of the offshore country British Virgin Islands
Servers in 136 cities in 87 countries
Geo unblocking (still) works
Easy to use client software
Clients for many operating systems
Pay with Bitcoin
Cons
Didn't come close to fully utilize the available bandwidth in our tests
Full disclosure about this review: To make our testing scalable, the speed tests are performed by the VPN provider, we perform random checks on the data to verify accuracy. In this case we tested the VPN speed in the Netherlands and Los Angeles and the Ubuntu download speed. We found no anomalies.
This review contains affiliate links, we are paid a commission when you decide to become a member of ExpressVPN. These have NO influence on the results and our conclusion. We exist for nearly 20 years and have NEVER taken any money to publish other results than our findings.
Your VPN service tested by Myce? Read our VPN Reality Test Suite guidelines and send us your results!