Lexar Tough Jumpdrive 128GB USB3.1 review
Review: Lexar
Jumpdrive Tough USB3.1 Gen1

Reviewed by: Antonis Sapanidis

Provided by: Lexar

Manufactured: in China
With priced dropping more frequently we
choose to buy new flash drives that are bigger and faster. Most of us will base
this decision on the speed of the flash drive, and its external appearance, although
some will want their flash drives to be able to survive in different harsh
environments. From sturdiness, to water resistance, and also heat and cold, at
the same time without having to worry if their flash drive will get damaged or have
any penalty in performance. The Lexar Tough USB 3.1 gen1 promises to deliver on
this, and also at the same time give you a fast experience with read speeds up
to 150mb/sec and write speeds up to 60mb/sec. So let's move on now and take a
look at the Lexar tough flash drive and its specifications.
Thanks to Lexar for providing the Tough USB
3.1 gen1 flash drive for this review. For more information about Lexar and
their products you can visit their website by clicking here.
Lexar Jumpdrvie Tough 128GB USB3 flash drive, packaging and
specifications
---
Let's take a closer look at the packaging
of the Lexar Tough USB3.1 flash drive.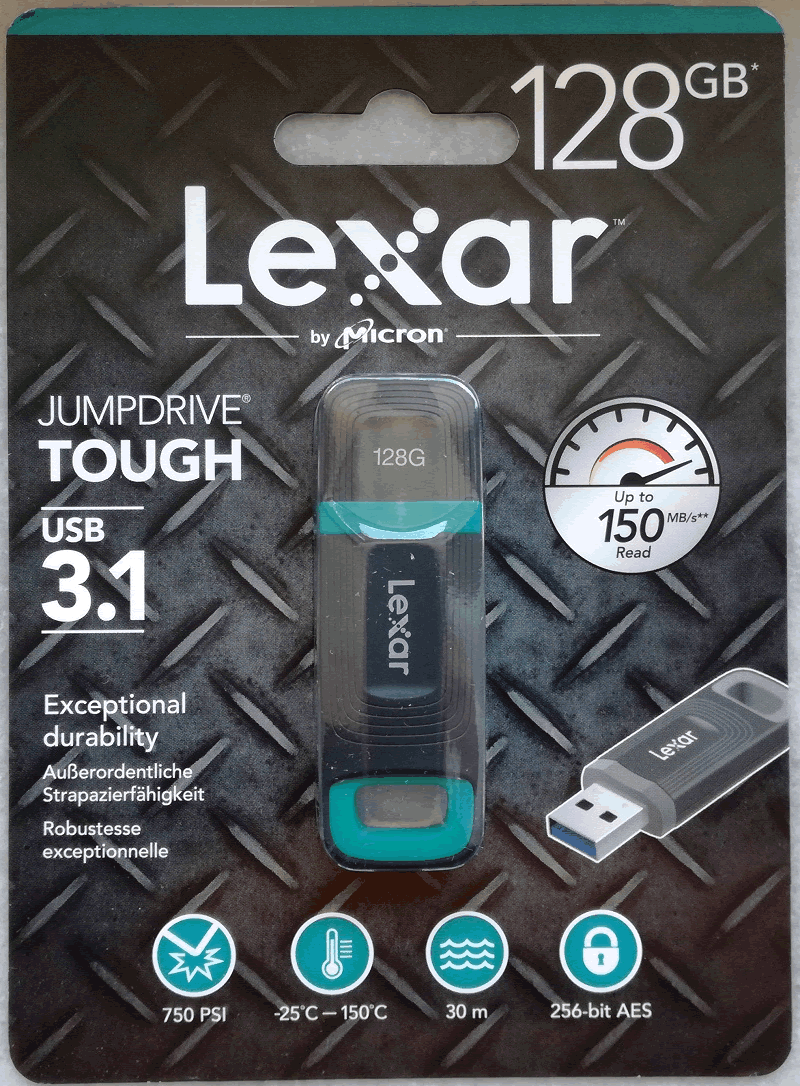 From the front of the package.

The front side of the Lexar Jumpdrive
Tough.

The rear of the Lexar Jumpdrive Tough.
Specifications
Let's take a look at the specifications for
the Lexar Tough as they appear on the website.
It's clear that the Lexar Jumpdrive Tough
is mainly aimed to those who want a flash drive that can survive in more extreme
places, and this drive should deliver on that. It has a water resistance of 30
metres, and it should be able to survive in temperatures from -25°C up to 150°C
and also as expected it is drop resistant. There is also software included that
will encrypt your files to 256-bit AES. Now onto specifications which are
equally as important, the read and write speed, and the maximum read speed that
the Lexar Jumpdrive Tough should achieve is 150MB/sec and the maximum write
speed is 60MB/sec.
Before I start testing the Lexar Tough Jumpdrive flash drive
let's find out what's inside using the Flash Drive Information Extractor tool.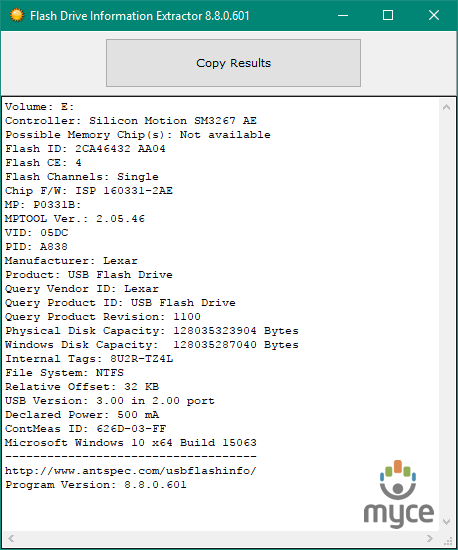 Here we can see that the Lexar Tough uses
the Silicon Motion SM3267 controller. This tool does not provide any info on
the memory chips but it will be safe to say that inside we will find chips that
are manufactured by Micron.
Now it's time to start testing the Lexar Tough
and see what speeds it can achieve in real world tests, so I will start with a
few synthetic benchmarks.
Now let's start testing the drive with
the NTFS file-system...